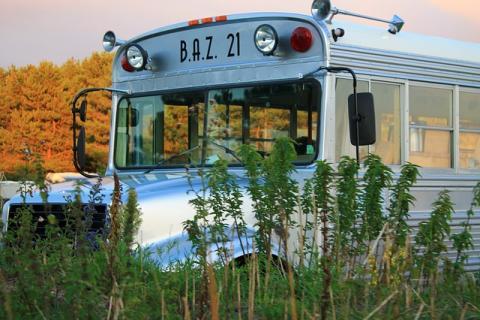 The boundaries seem limitless now that I have fully experienced life off of the grid. Traveling is amazing but it's even better when home is wherever you roam. I'm not the only one who's noticed this -- tiny homes and frugal living are becoming more and more popular as time goes on. My first tiny home was a Blue Bird School Bus.
I spent a summer traveling the East Coast on a converted school bus with 13 people, 2 dogs, and 2 cats. That's right -- we had a bus full, but that didn't matter. The school bus had been converted into a fully functional home on wheels. There was even a bathroom with a stand-up shower in the back and a functioning kitchen to boot. As for sleeping space there were 6 built-in bunks, each big enough and sturdy enough to hold 2 grown adults. There were also two fold-down beds and an air mattress for the aisle. It was pretty tight but it was amazing.
We spent many nights parked in national forests after long days of driving. We broke down once and were given permission to stay in the parking lot of the grocery store we were in. Initially I began to panic but then realized we had absolutely everything we needed with us already, including our fur babies. There's a freedom out on the open roads that's hard to explain to some people, and at the same time, it's difficult to explain to a traveler why some choose to stay put.
 Pros
You have your own space. When you go to visit friends or family you are already in a self-contained vehicle. I had everything I needed in my bus so nobody had to worry about sleeping arrangements or how many people are next in line for the shower. I'm a night owl so when the family is ready to say goodnight, I can go do as I wish without worrying about disturbing anyone.
You can cook and roll. We had a set up in the kitchen that allowed for us to safely have the crock-pot cooking supper while we traveled. I could literally walk into a natural foods store, come out into the parking lot, get in the bus, prep my dinner, toss it in the crock pot, make sure it is secure and stable, and then hit the road. By the time we reached the next destination, supper was ready. That same benefit allows you to arrive for a family visit bearing a gift of a hot meal.
You embrace minimalism.  If you're a full-time traveler it's likely you are also a minimalist to a certain degree -- after all, you can only fit so much stuff into an RV or school bus. In my opinion, less stuff equals more time, so paring down your belongings to hit the road may reveal hidden benefits to you.
Cons
Auto trouble can leave you stranded (and homeless!).  Breaking down on the highway or anywhere that requires the vehicle to be towed and stored in a garage means you have to figure out how to get to a motel or something until the vehicle is ready. We don't always get lucky enough to break down in a great spot.
Fuel can be costly.  If you don't have a diesel engine that can be converted to veggie oil you are going to be paying a lot of money in fuel, depending on how you travel, of course.
Auto theft becomes home theft.  Theft of your vehicle is one thing; it's a whole new ballgame when your vehicle is also your home. Without proper insurance and leads you could possibly lose everything you own.
I love traveling! There is just something about visiting new places and learning new things that excites me. Deciding to travel more than I stay put, it's only wise to have a house on wheels. The life is not for everyone but if you're considering it, I highly recommend giving it a try -- but be sure to always do your research. It is important to know what you're getting yourself into in order to know how to get out of it if you ever need to.