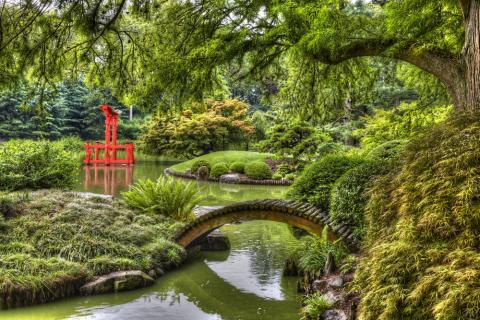 Gardens are a peaceful place to enjoy all the colors, scents, and serenity that life has to offer. There's nothing quite like the freedom of strolling through a lush and peaceful place where plants flourish all around you.
If you've ever visited a local community garden, or gone to a larger one somewhere in the world, then you know the kind of beauty these places offer. They're so beautiful, you'll wish they were edible landscapes. While there are plenty of gardens that impress, these five are truly ones nobody should miss. Join us as we take a look at these exceptional gardens from around the world. And consider making a trip to one—or more!—of these to see the beauty for yourself.

1. Brooklyn Botanic Gardens, New York
The Brooklyn Botanic Gardens are probably the last thing you would expect to find in a major metropolitan city, but this stretch of 52-acres has been around since 1910. There are a number of specialty areas, along with plant collections, and the Steinhardt Conservatory, which also includes a Bonsai Museum.
There are over 14,000 types of plants in the garden, and each year over 900,000 people visit this beautiful place in the midst of a gargantuan city. Some notable features of this garden are its collection of 200 cherry trees across 42 species. This is one of the most beautiful sites to see this type of tree outside Japan.
Another beautiful section is the native flora garden, which was the first section to be created in 1911. Back then it was the first of its kind in North America. Native gardens like this one, along with more personal endeavors, such as rain gardens, are wonderful contributions to the environment.

2. Gardens of Versailles, France
The Gardens of Versailles in France span across 800 hectares of land in a place that used to be part of the Domaine royal de Versailles. This is easily one of the most visited sites in all of France, with over six million people coming to see what it has to offer each year.
Beyond the manicured landscape, there are also exquisite sculptures and fountains spread throughout the garden. These beautiful works of art date back to the time of Louis XIV. On weekends from spring to early autumn, an event called the Grandes Eaux shows all of the fountains in full play.
The entire area was added to the UNESCO World Heritage List in 1979, joining thirty other locations in France that exist on the same list.
3. Jardin Majorelle, Morocco
The Majorelle Garden in Morocco is a 2.5-acre botanical garden located in Marrakech. It was created by Jacques Majorelle over the course of forty years. He began work on the project in 1923. Today both the garden and the villa within are available to the public.
The villa also houses the Islamic Art Museum of Marrakech and the Berber Museum. The entire garden forms a complex where buildings are dedicated to different museums and exhibits. The gardens are open to the public daily and offer a selection of cacti and sculptures, among other things to see.
4. Shalimar Garden, India
Shalimar Bagh is a Mughal garden located in India. It was built in 1619 by Emperor Jahangir for his wife, Noor Jahan. Today it is a public park. The layout itself is an adaptation of the Islamic garden layout "Persian gardens."
The area is flat land divided into four radiating arms that depend on a central location for the water source. Here the central channel is known as the Shah Nahar. In total, the garden covers 12.4 hectares, or 31 acres.

5. Kenrokuen, Japan
This name translates to "Six Attributes Garden." It is located in Kanazawa, Ishikawa, Japan. It is one of Japan's Three Great Gardens. The area is open year-round except for December 29th-January 3rd.
The garden contains roughly 8,750 trees and 183 species of plants. It also houses the oldest fountain in Japan, which operates by natural water pressure.
These are just some of the world's most beautiful gardens. Which ones have you visited? What gardens are on your list? Let us know in the comments!