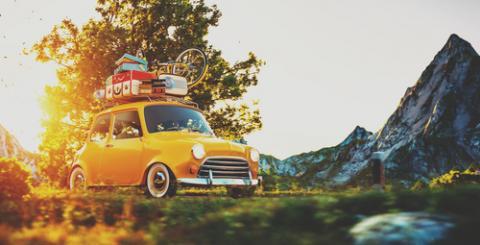 My husband and I have perfected the art of road tripping—at least from our perspective. Over the course of several years and dozens of week-long trips around the United States and Canada, we figured out exactly how not to car camp by experiencing it once and vowing never to go back. Sleeping in cramped cars, forgoing fresh food for convenience, and failing to plan ahead are quick ways to make enemies of your traveling partner and your vehicle of choice. Here's how to create a fun time without the unwanted drama.
1. Plan Your Overnight Locations
Spontaneity is often the best part of road tripping—what's more romantic than a sudden getaway to the California coast or claiming shotgun on a trans-country ride to visit long-lost relatives? Unfortunately, failing to plan ahead at all can lead to minor inconveniences or catastrophic problems. More than once, my now-husband and I forgot to think about rush hour when traveling from San Diego to Big Sur and ended up crammed in Los Angeles traffic. Likewise, plans for a spontaneous evening of campfire songs resulted in camping in a parking lot, directly next to a cemetery. It's safe to say we didn't sleep that night.
Prevent situations like the one above by making a list of two or three places you can stay in each location. Whether this is a motel, a campsite, or simply a place to sleep in your car, ensure that you have options that are safe, plausible, and if possible, fun.
Additionally, having a few places where you can shower—whether that's at a drop-in gym, a motel, or a clean river (remember to use river-friendly shampoo and conditioner only)—can keep the car smelling fresher and you feeling better, too. 
2. Pack Smart
Much of your trip is dependent on how much space you have available. A three-piece luggage set isn't practical if you'll be sleeping in your vehicle at night, and might not be a great choice if all of your friends are along for the ride, too. Consider paring your items down to one duffel bag and packing comfortable, non-restrictive clothing that promotes better circulation during long hours in the car. 
Packing smart also includes preparing for areas where food might be limited. Look for healthy non-perishables like nuts and seeds or dried fruit. Perishables like hard-boiled eggs, salads-in-a-jar, and homemade banana bread are also great options to have on hand. Bring along a cooler that you can refill at grocery stores, or better yet, farmers markets, along the way.  Keep on top of your nutrition to have enough energy to go on all of the hikes and visit all of the spots listed on your must-see map. 
3. Care For Your Car
This might go without saying, but it's something I failed to do during some of my earliest road trips: prepare your car. In the week leading up to your trip, change your oil and air filter, clean your car inside and out, and ensure you have a full tank at the beginning of your trip—and never less than a quarter tank empty at any point. You never know when you'll run out of gas stations! 
4. Test Your Sleeping Conditions
The first time my husband and I tried sleeping in our car, we found out the hard way that forgetting to test out dimensions can result in poor sleep—his legs were too long! Since then, we've learned that sleeping diagonally can fix this issue, as can moving up the front seats to provide more room for our heads. To avoid a sore back, we invested in a foam pad that fits perfectly in the backseat and provides similar support to our bed at home. Figuring this out at home was much easier than making these decisions on the road. Take some time to test out however you plan on sleeping during your road trip for a more seamless time when nighttime comes around. 
5. Create Entertainment
Dozens of apps now exist to make games out of classic competitions like finding as many different license plates as you can, but I prefer podcasts that can be catalysts for interesting conversations (try these healthy living ones or these wellness ones.) Download a variety of podcasts before you go, or consider trying an audio book that you've had on your to-read list for a long time. 
6. Build In Rest Stops
Rest stops don't have to mean pull-over-on-the-highway-and-take-a-pee-break stops. Instead, research interesting locations before you leave to break up the travel time and keep your body moving. Parks, places of cultural interest, art spaces, and even cafes can make long days at the wheel manageable and healthier. Consider bringing along a pair of running shoes for a quick jog around a nearby park or a yoga mat that can be placed just about anywhere. 
Road trips don't require vans. Van life, rather #vanlife, is more than just an Instagram picture to dream about. 
Do you have tried and true road trips tips that have worked for you? Let us know in the comments below!