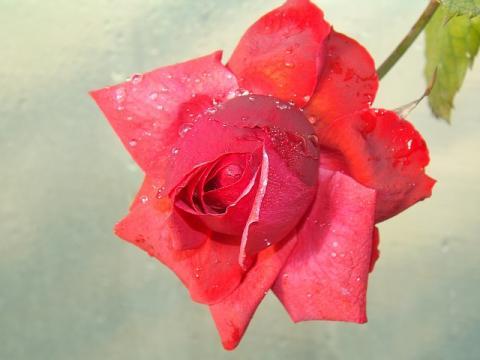 Floral waters give you that low-level kind of scent you have to lean in to smell —subtle and natural. So what exactly is floral water? Floral waters are actually the water leftover from the extraction of an essential oil . Everything that didn't make it into the essential oil  is now concentrated in a sweetly scented broth ready to shower you with flowery goodness. Not only do floral waters lend a delicious scent, they also have therapeutic qualities that can help balance thoughts and emotions. Double score. Here are 5 floral waters to spray on when you need a little pick-me-up: 
1. Rosewater
The mother of all floral waters, rosewater is by far the most popular floral water on the market and is often used as a toner, either alone or with glycerin added. When used as a perfume, rosewater gives you that scent of a just-rained-on flower garden. It's fresh without the heaviness that often comes with floral perfumes. It's romantic and mature. Rosewater can also encourage feelings of self-love and calms the mind. 
2. Orange Blossom Water
You've seen those flowers on orange juice cartons, right? Well, orange blossom water is made from the distillation of those flower blossoms. What you are left with is a lightly scented water that marries grassiness with fruit. Yum. Orange blossom water makes a great body spray and you can even spritz it into your hair to keep your locks fresh and bouncy. According to Amanda Sipenock, brand and product trainer for LUSH, "This flower's extract is predominately used in perfumes and is rumored to have aromatherapeutic benefits that include feeling uplifted and happy ". Bonus. I also hear that Marie Antoinette was a huge fan.
3. Lavender Water
Lavender water has a comforting scent. It's mellow, soft and the perfect option if you like a warmer floral note. Spraying lavender water onto your muscles after a long day can have a really nice, relaxing effect on your body. Why not keep some lavender water in your gym bag to loosen those muscles after your workout? Lavender is also well known for reducing anxiety and calming the mind. In a study published in the journal Phytomedicine, lavender was shown to be just as effective as the pharmaceutical drug Lorazepam. Pretty powerful stuff. Spritz on some lavender water for some major chilled-out vibes at the end of the day.
4. Jasmine Water
Jasmine water is incredibly luxurious. The word jasmine just sounds so fancy, doesn't it? The scent is more herbal than flowery. It's robust and has an almost grounding effect when you breathe it in. If you're not a fan of feminine scents, jasmine is your right hand man. Let's just say, you'll know it when someone has it on. To add to the allure of it all, research shows that jasmine calms autonomic nerve activity and decreases heart rate. You'll basically feel super zen and smell like a queen.
5. Chamomile Water
Chamomile water has a delicate quality to it. It's herbal, fruity and unassuming. It's great as a pillow spray and will freshen up your bathroom like a dream. The real magic, however, lies in its sedative qualities. There's a reason why chamomile is often found in sleepy-time teas. The scent is proven to actually promote relaxation when you breathe it in. Research shows that chamomile can help to relax muscles, emotions and even brain waves. So keep calm and spray on some chamomile water.