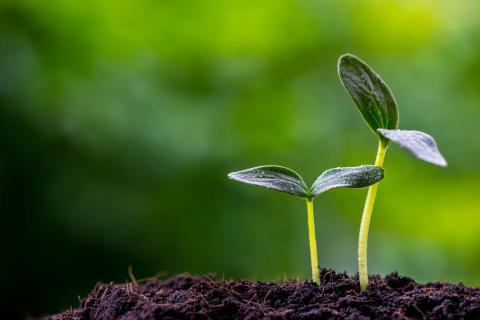 Sprouting seeds is a smart and healthy way to use up any leftover seeds you may have from your garden. Sprouted seeds have been recorded as being consumed and grown over many centuries. Not only does sprouting seeds provide a quick way to grow and provide fresh vegetables, but it also allows for a way for food to be grown indoors during the cold weather.
If you've ever walked into a health food store, don't be surprised to see such items as sprouted chia seeds, sunflower seeds, or beans. Consuming sprouted seeds offers health benefits such as improving vitamin absorption, boosting metabolism, lowering cholesterol, improving vision, improving the immune system, and much more! Sprouted seeds are also known to be high in many essential vitamins, fiber, and minerals.  
Today, you can find many DIY kits on the market for sprouting. Doing it on your own can be a simple, cheap, and more sustainable way to get sprouted seeds. Interested in trying? I've provided 7 basic steps to help you start sprouting your own seeds.
What do you need to sprout seeds?
Sprouting Seeds
Quart Jar
Jar Sprouting Lid or Netting
Water
Step 1: Choose Sprouting Seeds
There are a variety of seeds that are great for sprouting, and each has its own unique taste and texture. Among some of the popular kinds are beans, rye, alfalfa, chickpeas, peas, sunflowers, wheat grass, and mustard greens. When choosing what seeds to sprout, consider things like flavor, timing, and what seeds you have. It is recommended that you do not sprout tomato or potato seeds because they are considered poisonous for human consumption.
Step 2: Prepare Jar Container
The size of the jar depends on how many seeds you are sprouting. For describing these basic steps, I will use a quart-sized jar. The jar, lid, or netting should be washed and cleaned thoroughly before placing your seeds inside.
Step 3: Place Seeds In Jar
Rinse the seeds in cool water several times before placing them into the jar. Place ½ tablespoon of seeds into the quart jar.
Step 4: Cover Seeds With Water
Cover the seeds with cool, clean water. It is recommended that you have the water 3 times higher than the depth of the seeds. Place a sprouting lid or netting on the jar, and place the jar in an unlit area overnight.
Step 5:  Drain & Rinse Seeds
Drain out the excess water and rinse the seeds daily. Use clean, fresh water to keep them from spoiling, and always drain the excess water.
Step 6: Remove The Seeds
Once you notice that all your seeds have started to sprout a small leaf, remove the seeds from the jar. It is recommended that you place your sprouted seeds with leaves in a sunlight area for one hour to help the leaves produce more chlorophyll. Sprouting usually lasts anywhere from 2-8 days, depending on what seeds you are sprouting.
Step 7: Store Sprouts
Rinse your sprouts in cool water, and then place them in a jar with an airtight lid. Store the sprouted seeds in the refrigerator to keep them from molding or spoiling. Your sprouted seeds should last for about one week, but it is a good idea to use them within 5 days of sprouting.
There are many different methods for sprouting seeds, along with different kinds of effective equipment. The type of method you use as well as equipment depends mostly on the types of seeds you are sprouting, and what works easiest for you. One of the best things about sprouting seeds is you can sprout them almost anywhere!
Warnings & Tips For Sprouted Seeds
It is recommended that you use organic seeds and not commercial seeds for sprouting, as most commercial seeds will contain harsh chemicals from pesticides.  
In order to avoid bacteria-related illness that can occur from sprouting seeds, it is wise to always use hot water and a mild cleaning solution to clean your jars and lids. Clean your jars and lids before using them, and ensure that you store them in a jar with an airtight lid in a refrigerator.
If you are using tap water for sprouting seeds, it is a good idea to pre-boil and cool the water before using it. It is recommended that you use cool water, and never warm water.