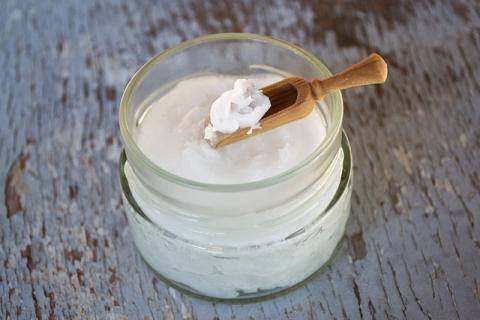 This Christmas, I made my mom and my best friend a gift from my heart: A DIY body scrub and matching body lotion! They absolutely loved the gift and could not stop talking about how soft and smooth their skin was after using the scrub and lotion. So guess what? Today, I'm going to share the recipe for both with you. Trust me when I say, if you create these, you might be tempted not to share them. I have a whole stash of the body lotion in my room just for me! I couldn't bear to part with it. If you do want to part ways with it, it does make a great gift. I suggest putting the body scrubs into a pretty amber jar and the body lotion into a pretty glass one.
FYI: The body lotion recipe makes more than the body scrub one does (so be prepared to use multiple little glass jars, or one big one)! 
Note: Please note all these recipes are made without coconut oil, as my friend is allergic to it. That said, any of the oils mentioned can be replaced with coconut oil, if desired. 
Simple Rose Body Scrub 
Since I'm obsessed with roses I chose to make the body scrub rose-scented. That said, you can scent yours any way you like. And trust me, this recipe is so easy, you won't have any trouble with it. It's great for exfoliating skin! Make sure you (or your lucky gift-receivers) know to scrub it on 5 minutes before a shower, let it sit, and then wash it away. 
Ingredients 
1 cup fine sea salt (or sugar) 
½ cup almond, grapeseed, or olive oil (can be replaced with coconut oil, if desired) 
5-15 drops essential oil of your choice (I chose rose essential oil) 
Spoon 
Mixing bowl 
Note: In terms of packaging, this made two jars of body scrub. I used amber jars with an airtight lid. Feel free to decorate the jar any way you want. A nice idea for a gift, is to glue some dried rose petals onto the jar in the shape of a flower. I got my amber jars at Mountain Rose Herbs and used 4 oz. jars. 
Directions 
Put the salt (or sugar) in a small bowl. Add the oil, mixing well with a spoon.  
The texture should be moist enough to hold together, but not overly oily. At this point, it should remind you of a colorless slushie. You can adjust the amount of oil to achieve that slushie-texture. 
Gently tap in the drops of essential oil and combine well. You might find, depending on what essential oil you use, that less is more. For example, I had to add a little more than expected (the rose essential oil I used isn't pure -- it's diluted with jojoba oil. Pure rose essential oil is very expensive!).  Ta-da! You now have your very own body scrub. Add it to your amber jars and decorate! 
Luxe Rose Body Lotion 
Unlike most body lotions, this is more like a body butter: It's creamy and luxurious. Don't expect it to dissolve into your skin right away, either. It certainly pairs well with the body scrub. After you shower (and have washed away the remnants of the body scrub and dried off), I totally recommend slathering some of this on. You won't need much, but it's the ultimate body moisturizer. If you don't like heavy lotions, this might not be for you. But it'll certainly give your skin a treat! 
Ingredients 
2 cups sunflower oil (or coconut oil, if you prefer) 
½ cup shea butter 
3 tbsp. almond oil (or jojoba oil) 
20 drops of rose essential oil (I added more but didn't keep count after 20 – feel free to use whichever essential oil you prefer. I also recommend lavender) 
Directions 
If you decide to use coconut oil instead of sunflower oil, make sure it's completely melted. If it isn't, microwave it in a glass bowl for 15-second increments (whisking in between) until it's completely melted. 
If your oil (sunflower or coconut) is already melted, add shea butter to it and heat it in a glass bowl. Do this in 15-second increments (whisking in between) until both the Shea butter and the sunflower oil are combined. 
Place bowl in the refrigerator and allow to cool until the mixture starts to become opaque around the edges. You can also speed up this process by putting it in the freezer – just make sure to check on it periodically so it doesn't completely freeze over (and if it does, melt it for a few seconds in the microwave). 
Transfer the mixture into the bowl of your stand mixer. Whip the mixture until it begins to become creamy. Trust me when I say, this can be a taxing process and might take a while, but don't get discouraged. 
Drizzle the almond or jojoba oil and essential oil into the sunflower oil/Shea butter mixture and continue to whip until the mixture is creamy and fluffy. It should kind of resemble whipped cream (but don't eat it!). Now it's ready to be stored in a pretty glass jar.  
Note: I highly recommend using a glass jar you have lying around the house (maybe a mason jar or a jelly jar you recently emptied out), or buying one from Mountain Rose Herbs. I recommend getting their 4 oz. clear glass salve jars for this (that's the one I used!).