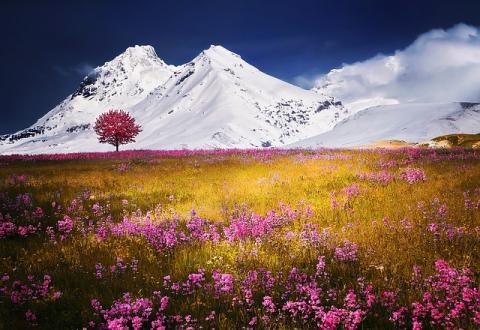 The essence of the human enterprise is encapsulated in the pursuit of meaning.
We must live with a sense of meaning, otherwise our lives become greatly chaotic. There must be a deep and abiding sense of purpose in our lives, for without which we slip into trends of banality, triviality, and perhaps even crookedness.
When meaning is lost, we can grow dark. We might capitulate to our more deviant and destructive tendencies. We may give way to warfare and strife. We might even generate sorrow – both within and without.
So, there is an impetus to bring about a quality of meaning – a sense that our lives contain intrinsic value and innate consequence.
How might we go about this?
The thing to bear in mind as we proceed here is that our lives DO contain intrinsic value. It is less of a matter of generating such a state from thin air, and more so one of fully realizing our own nature.
To be aligned with our deepest nature, our most heartfelt inclinations, is to inexorably evoke meaning.
We are simply recognizing what it is that we are in the very depths of our being, for meaning is integral to consciousness itself. Where there is awareness, there is the unveiling of meaning.
The problem has arisen via our unconscious proclivity to identify with our thoughts. When we give total credence to the movements of the mind, we lose touch with this innate sense of power and meaning.
This is the case because our mental formulations are far too rigid to recognize our own depth and profundity. Our true nature is non-verbal, which is to say it cannot possibly be wholly come upon through the devices of thought, and thereby when we identify with our thoughts we come to limit our perception.
Meaning cannot be brought about purely through intellect. It might only be elicited through skillfully engaging with the present moment, through according ourselves with the immediacy of felt experience.
To have the whole of one's attention centralized in the here and now is to engender that quality of existential empowerment that is quintessential to living a meaningful life.
We are coming to align ourselves with pure awareness, to elicit a harmony between the mind and the immediacy of direct experience, for when this is achieved we are most connected to our true nature. Being that meaning is inherent to the expression of our true nature, we herein come upon this deep sense of purpose that we so deeply seek.
So, when we step outside of the incessant movements of the mind, the sheer neurosis of our repetitive thought patterns, we come fully upon our true nature. Here, we come to dwell in a field of serenity and virtue. We live with a deep sense of potency, a sense that our lives contain tremendous magnitude and importance, and thereby engender a kind of solace from our respective suffering.
Here, we live with meaning.