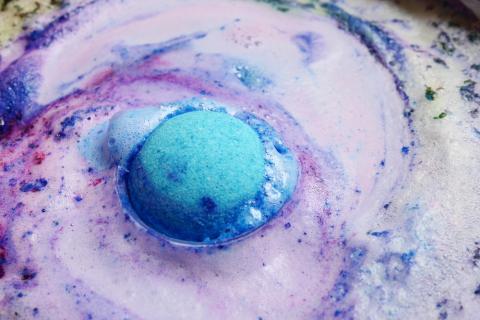 Not sure about you, but I have a fascination with bath bombs. Ever since bath bombs became really big, I've been hooked. Here's the only problem: store-bought bath bombs still contain some synthetics (and they can be a little pricy). There are lesser-known brands that sell all-natural bath bombs (without the synthetics), but crafting your own is the best bet. Why? Because you have complete control of what you put in them. Now, if you're more of a bubble bath type of person, no worries. I got you covered there, too. Honestly, crafting your own bath bomb and bubble bath is way more fun than just buying them. Plus you get a sense of satisfaction from it (it'll make you say: Wow, I made that?). So even if you suck at DIYs, give these recipes a try. Hey – it'll pay off and give you a great, relaxing bath experience in return!  
Beets Me Bath Bomb
This bath bomb is made using all-natural ingredients, one of them being beetroot powder. The beetroot powder gives it a lovely rosy color and is only for coloring purposes (FYI). Since bath bombs are kind of finicky and hit or miss creations, I suggest you stick to this recipe as closely as possible to achieve the desired results. P.S.: It won't smell like beets, if that was worrying you – it's grapefruit scented! 
Ingredients:  
3 Tablespoons citric acid 
8 drops grapefruit essential oil (can be replaced with any essential oil you prefer) 
2 tablespoons baking soda 
2 tablespoons cornstarch 
¼ tablespoon coconut oil (can be substituted with sunflower oil) 
2 tablespoons Epsom salt 
2 ½ tablespoons beetroot powder 
Note: As far as supplies goes, you'll definitely need a bath bomb mold, two bowls, and a whisk. 
Directions: 
First things first: Mix all the dry ingredients together in a bowl. This includes the citric acid, baking soda, cornstarch, Epsom salt, and beetroot powder. Use your whisk to stir it. 
In a separate bowl, add the water, coconut oil (or sunflower oil), and essential oil. Mix it together. 
Now, very carefully, pour the liquid batch you've made little by little into the dry batch, then mix. You don't want to add the liquid to the dry ingredients all at once because this will cause it to fizzle up and dissolve on the spot! Instead, you're looking for the mixture to start clumping together. 
After you see the mixture clumping together (it should feel and look a little like damp sand), you can now add it to your molds. Fill the molds as much as possible so they're nice and compact (this will help them hold together better). 
Once the mold is formed, just tap out the bath bomb and let dry for 12-14 hours. Make sure to avoid leaving this in a humid room, and handle with care! These can break very easily. Once your bath bomb is ready for use, just plop one in a warm bath and enjoy! 
Sweet Honey Bubble Bath 
Nothing is as luxurious as a bubble bath! However, there are some nasty chemicals used to create most conventional bubble baths. Want to know how they get those bubbles so big? Try sodium lauryl sulfate: An icky chemical that's known for not only drying out skin, but also harming the environment. Instead of worrying about the ingredients in your store-bought bubble bath product, just make your own. Here's a recipe I trust, although I must warn you, it's not vegan. That said, it does the trick.  
Ingredients: 
½ cup castile soap 
1 tablespoon honey 
1 egg white 
A few drops of essential oil (optional – use one of your choice) 
Note: I recommend you use this as soon as possible, seeing as it calls for egg whites. Also, don't worry – you won't be able to feel its gooey texture at all in the bath (or smell it). Egg whites actually help the bubbles last longer! Definitely keep this in the fridge when you're not using it between uses. 
Directions: 
Gather all the ingredients and mix them in a bowl.  
Feel free to add as many essential oils as you want. Some soothing essential oils to consider using are chamomile, lavender, vanilla, or rose essential oil. You can use only one essential oil or combine them to make a unique scent you'll enjoy. 
Shake the mix well before use. You can store it in a glass jar or any clean, empty container (always upcycle if you can before buying a new container!). When you're ready to use it, simply pour it into the stream of running water in the tub. Enjoy your bubble bath!