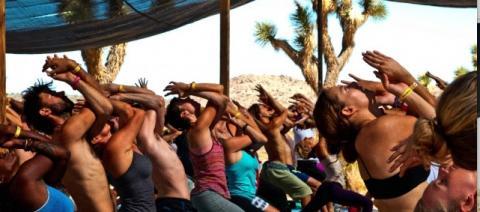 "These events are about diving deeper into what really matters: love, truth, compassion, integrity and humility. We are here to build spiritual community and bring people together during difficult times," says Sridhar Silberfein, executive producer of Bhakti and Shakti festivals.
Since 2009, these festivals, which primarily take place in the beautifully serene and sacred location of Joshua Tree in southern California, have been aiming to bring together a community vested in the celebration of personal and spiritual growth, intention, wellness and devotional worship. Each event is conscientiously steeped in workshop teachers, leaders, speakers and musicians that are carefully chosen based on their intention for involvement and earnest desire to help people and facilitate transformation. "The people that are involved in the work are involved in the discipline (yoga and meditation) and are actively working on themselves," explains Silberfein.
When asked what sets these celebrations apart from other popular and well-known festivals, Silberfein noted first and foremost, the music. Kirtan, a call and response form of interactive singing between performers and audience, is based on ancient chants and rooted in spirituality, energetic intention and deep connection. Shakti Fest next month will be graced with the presence of one such individual, musical artist Jai Uttal, a leading force in the Western Kirtan Movement for the last 40 years. Kirtan music has "an innate transformational power to invoke divine energies and is amazingly uplifting," says Uttal. Focused on the celebration of divinity and our greater connection to the universe and to each other, the spiritual element to this genre of music is powerfully present and woven seamlessly throughout the melodies.
15 years ago, Uttal and his wife began leading Kirtan camps – an immersive week of community mantra singing. Out of this sharing of songs and prayers came many ripple effects, indirectly leading to the emergence of Bhakti and Shakti festivals, which are now filled with alumni from these camps. "It is truly a real phenomena. What began as a small tribe or village is attracting more and more people and the energy is very strong," says Uttal. Released this March was Jai's new album, "Roots, Rock, Rama!" which beautifully encompasses the entire spectrum of devotional emotion and feeling. "The world needs a lot of healing. There are many ways to do that. This may not be a transformation you can see with your eyes but I believe and trust it is there," Uttal says. Partnered with OneTreePlanted, for each album sold, 1 tree is planted in effort to reverse deforestation around the world. For more information on Jai and his music, visit him at www.jaiuttal.com.
Aside from the presence of conscious music and chanting, "Bhakti and Shakti fests are dedicated to respecting and honoring the people that are coming. Our message is about spreading positivity, love and compassion. It is spiritual, it is deep, it is turning people onto a richer way of life," says Silberfein. Rather than the goal being to make money, these festivals strive to create a safe, clear and conscious environment, part of which is done by being alcohol-free. Portions of the proceeds from the events are also contributed to and raised for various charities.
What else can you expect to look forward to at Shakti Fest? Workshops this May include mind-body training, breath work, sacred sexuality, ecstatic dance, divine feminine embodiment, meditation, Hindu mythology, and Vedic astrology, as well as yoga and its sister science Ayurveda. Mas Vidal, director and founder of Dancing Shiva Yoga and Ayurveda in Los Angeles, combines the classical yoga system of Patanjali with the foundational elements and practices of Ayurveda – an ancient and holistic approach to health, balance and wellness through diet and lifestyle. Vidal will be leading a workshop discussing the importance of lifestyle reform and coming back to our relationship with the divine. "This is a living relationship involving the body, mind and soul. A sort of 'spiritual ecology' in which our spirituality leads a greater understanding of ecology and our mindfulness of ecology leads to a deeper sense of spirituality," explains Vidal. For more information, visit him at www.dancingshiva.com.
Growing and expanding every year, Bhakti and Shakti Festivals are, in essence, grounded in presence, celebration of the divine and the coming together of spiritual community, providing a safe space for personal evolution. Silberfein says, "Don't be afraid of failure. Success, failure; it is just a sensation that goes through the body." Through the continuous dedication to spiritual connection and the internal process of self-inquiry, we rise and transform.
Image by JAIME RAMOS from santiago, chile - +fky-476, CC BY-SA 2.0, Link