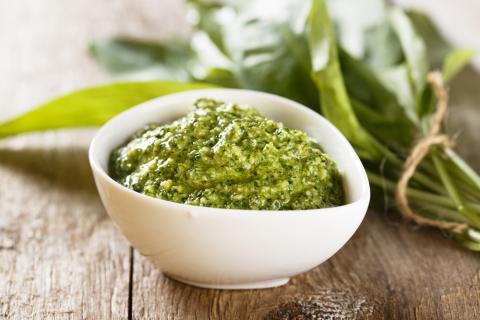 Spring is here and garlic scapes are in season!
Garlic scapes are the long, curly, flower buds of the garlic plant that are typically picked and tossed by commercial operations. (Removing the flower bud allows the garlic bulb to mature in the ground.) The more savvy and local farmers at your co-op or farmer's market know better; garlic scapes are delicious and can be found in the spring season and used for all sorts of dishes including stir-fries, salads, soups, and yes, even pesto.
Garlic scape pesto uses the simple garlic scape in place of basil or other greens. The light garlic flavor brightens the pesto in a way that leafy greens don't, and adds an extra kick to your sauce or pasta dish. Use in place of regular pesto in any recipe or add to a pot of traditional marinara sauce for a tasty, garlicky flavor. I love to whip up a large batch of Garlic Scape Pesto in the early spring and freeze in ice cube trays for use year-round.
Garlic Scape Pesto
(Yield: about 1 cup pesto)
Ingredients:
1 bunch garlic scapes (10-12 scapes)
¼ cup almonds, pine nuts, or sunflower seeds
½ cup shredded Parmesan cheese
Juice of 1 lemon
⅓ cup olive oil
Salt and pepper to taste
Method:
In a food processor, pulse garlic scapes, nuts or seeds, parmesan, and lemon juice until combined. Slowly drizzle olive oil into the mixture while pulsing in the food processor. Add salt and pepper to taste. Pesto is ready to use immediately or can be frozen up to 3 months.