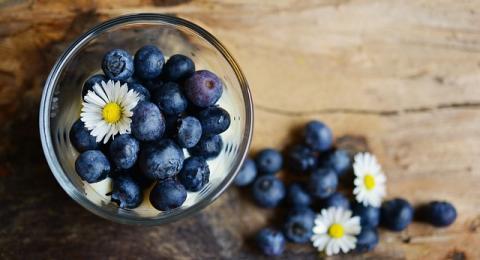 Nothing beats a nice summer BBQ with fresh, seasonal foods and good company. Even when you're not at a BBQ or special occasion, you can still bring in the bounty of summer with these four recipes. All of them incorporate in-season produce. I highly recommend going to the local farmers market and picking up the ingredients for these recipes from there, as it will enhance your dishes greatly. Farmers markets are great because you get to know the farmers and the food doesn't have to travel as long to get to you (which makes a big difference in taste, trust me!). If you can't visit a farmers market, definitely try to get organic ingredients at supermarkets to make the meals below. You won't be sorry!  
Breakfast: Summer Berry Smoothie Bowl
While strawberries aren't technically berries, they're still seasonal to summer. That's why I love to include them in this strawberry, blueberry, blackberry smoothie bowl. Not only does it taste absolutely amazing, but it's also quite good for you! Such a great, healthy way to start the day.  
Ingredients: 
1 cut up frozen banana 
1 cup frozen strawberries 
1 cup frozen blackberries 
1 cup frozen blueberries 
1/2 cup almond milk 
1 teaspoon honey, maple syrup, or agave (optional – for added sweetness) 
Directions: 
You can buy all your fruit fresh if you'd like. Simply wash it off and then freeze it in mason jars. Don't worry: not every fruit has to be frozen in order to make a thick smoothie bowl. Some can be left fresh. That said, I would aim for at least 2 frozen fruits (like 1 frozen banana and 1 cup of frozen strawberries). You can always add ice cubes to your smoothie bowl if you still feel it's not thick enough. Try adding at least 3 for a colder, thicker smoothie bowl. 
Once you've got that covered, add all your fruit to the blender. Add in the almond milk and natural sweetener of your choice, too. Start to blend and don't stop until all clumps are eliminated! Once it's smooth, pour it into a bowl. 
Feel free to decorate it with some fresh fruit slices, or sprinkle some organic chia seeds or hemp hearts on top. You can even add shredded coconut, cocoa nibs, or nuts to your bowl. The choice is all yours. Eat up! 
Lunch: Sweet Superfood Salad
This recipe incorporates some summer staples: strawberries, tomatoes, beets, cucumbers, and sunflower seeds. I totally recommend it: It'll make your mouth very happy! This recipe also includes a delicious dressing to top it off with, but feel free to use one of your own dressings if you'd prefer. This recipe serves 6. 
Ingredients for the salad: 
3 ½ cups mixed baby salad greens 
2 cups cherry tomatoes, cut in half
7 ounces of strawberries, sliced
2 beets, thinly sliced or grated
1 cup alfalfa sprouts 
2 large cucumbers, thinly sliced
2 avocados, cut in half and peeled, pitted and sliced
1 tablespoon chia seeds 
1 cup hazelnuts, roughly chopped
1 tablespoon sunflower seeds 
1 tablespoon pumpkin seeds 
Ingredients for the dressing: 
1 tablespoon lemon juice 
2 tablespoons cider vinegar 
¼ cup extra virgin olive oil 
2 teaspoons wholegrain mustard 
Sea salt and freshly ground black pepper (to taste) 
Directions: 
To make the dressing, put all the ingredients in a mason jar, cover, and shake well to combine. (Alternatively, whisk ingredients together in a small bowl.) Set to the side to allow the flavors to develop.  
Put all the salad ingredients in a large serving bowl, and toss gently to combine. Drizzle with the dressing, then toss and serve immediately. Enjoy!  
Dinner: Corn and Summer Vegetable Sauté 
Who doesn't love summer vegetables? One of the most iconic ones is corn-on-the-cob. Give it a little upgrade by making a corn and vegetable sauté instead! The tomato will add a pop of cool, freshness to this dish.  Your taste buds will love all the fresh flavors. This recipe makes about 6 servings.   
Ingredients: 
1 tablespoon olive oil  
1/2 cup chopped green onions (about 4)  
1 garlic clove, minced
1 cup green beans   
1 cup lima beans  
1 heirloom tomato, chopped 
1 cup fresh corn kernels (about 2 ears)
1 (15-ounce) can black beans, rinsed and drained 
1/3 cup fresh cilantro, minced
1/8 teaspoon salt  
1/8 teaspoon freshly ground black pepper  
Directions: 
In a large, non-stick skillet, heat olive oil over medium-high heat. Add onions and garlic and sauté for about a minute. 
Next, add in lima beans and sauté 3 minutes. Reduce heat to medium. Add green beans and cook 5 minutes. Now add in corn; cook 5 minutes. Stir in black beans; cook 2 minutes. Stir in cilantro. 
In a big bowl, add in cut up pieces of heirloom tomato. Now add all the sautéed vegetables and mix together with the heirloom tomato. Sprinkle with salt and black pepper. Serve immediately!   
Dessert: Vegan Blueberry Ice Cream
Summer wouldn't be summer without ice cream! Want to enjoy all the deliciousness of ice cream with half the fat? Or maybe you're just vegan and steer clear from dairy? No matter: This ice cream will blow your mind. Made with only two ingredients, it would be silly not to make it. This recipe serves 2, but can be easily doubled to serve more people! 
Ingredients: 
2 ripe bananas (sliced and frozen overnight) 
1 ½ cups of frozen blueberries 
Directions:  
Cut the bananas into pieces and freeze them for a couple of hours, or preferably overnight. Then put them in a blender together with the frozen blueberries and process until smooth. Use the pulse function and scrape down the sides, if needed.  
Then, place your homemade, vegan ice cream into a container of your choice. Feel free to top it off with fresh berries (blueberries, raspberries, and strawberries) or cocoa nibs. Totally up to you. Enjoy!