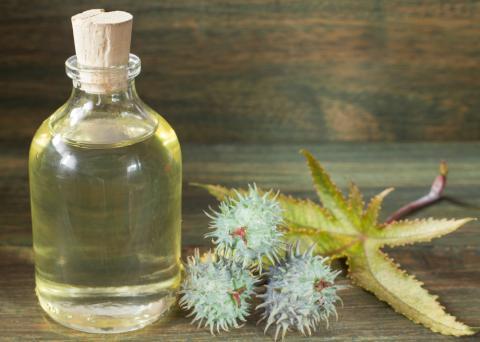 While castor oil is no "wonder drug" to take all your hair problems away, it is an oil that's high in nutrients and can add life to locks devoid of moisture, nutrition, and shine.
Many of us might have had castor oil-happy grandma who chased us down under-the-stair nooks and in-the-cupboard crannies with that vile-smelling and awful-tasting bottle in her hand. But honestly, castor oil is actually not as bad as our childhood flashbacks remember it to be…
Okay, it is! But then, we're the good guys – we're not asking you to swallow the gag-worthy liquid. Just add it your hair care and beauty routine, and while you will not suddenly sprout hair that is three times thicker or longer, or turn from frizzy frump to supermodel material – your hair will definitely feel softer, look shinier, and be more manageable. Why? Because not only is castor oil high in Vitamin E, minerals, and proteins, as well as omega-6 and omega-9 fatty acids, it also has natural antibacterial and antifungal properties.
Plus, the main constituent of castor oil, ricinoleic acid can help re-balance the scalp pH which at times can swing either way due to harsh chemicals and color treatments. So castor oil, on the whole, makes the scalp as well as the hair healthier and happier. Which in turn makes us happier, right?
On that cheerful note, here go five simple hair masks or deep conditioning treatments you can whip up at home – for different hair types and seasons…
For Oily Hair Or The Oily Summer Season
When it's hot, oil it not. Or at least, oil it little! So here is a non-oily castor oil hair mask – bit of a conundrum, but it is so good for those listless, sweaty, and oil-plagued locks.
½ cup thick or hung yogurt
2 tablespoons castor oil
A few drops of your favorite essential oil
Whip this into smoothness in a blender and apply slightly cold onto the scalp, coating the hair from end to the roots. Wear a shower cap on the head to let your skin's natural heat aid your scalp and the hair strands to absorb the best of the nutrition they can – keep on for 30 minutes. Wash off with warm water, and shampoo and condition as usual.
Tropical Moisture In The Summer Heat
It may be sweltering outside, but that's no reason to starve your locks of moisture. To get a good dose of deep conditioning in the summer, without feeling sticky and sweaty, try this hair mask full of tropical goodness.
5 tablespoons coconut cream
1 tablespoon castor oil
Shampoo your hair as usual. Now apply the above mixture from scalp to tip and massage in for 5-10 minutes. Wash off with warm and then cold water – in case your hair feels oily you may use another bout of mild shampoo but usually, this leaves the hair feeling fresh, soft and softly scented.
Tame That Frizz In Humid Months
Whether your hair is curly or straight, frizz is its worst enemy. And any humidity can take you from a good hair day to a bad hair day super quick – here's some respite.
3 tablespoons castor oil
3 tablespoons honey
3 tablespoons milk or cream
Mix all the ingredients well, till the mixture is thinned down a tad but not too runny. Apply from scalp to tips and leave on for 30-40 minutes, wearing a shower cap or a steamed / hot towel to let the body's heat work towards soaking in the nutrients. Shampoo and condition as usual.
For Dry Winter Hair That Needs Nourishment
Winters are the worst for the hair – between the cold and the snow and the sun, the hair is left feeling dry, rough, and brittle. What it needs is some protein and fatty nutrition, so try this.
5 tablespoons castor oil
2 tablespoons coconut oil
1 egg
If your hair is too dry and damaged, you may want to skip the egg whites and just go with the yolk. Crack open the egg in a bowl and add in the oils – whip everything to smoothness. Apply this from scalp to the ends and keep on for 30 minutes. Remember to stay out of the sun lest the egg starts to "cook." Wash off with warm water (not hot, remember, the egg will cook!) and then shampoo well to get the smell out. Condition as usual. Once the hair is damp, you may choose to stand in the sun for 5-10 minutes to take away any eggy smell.
For Dull Hair That Needs Some Shine
Sometimes, the weather as well as product buildup can really leave your locks looking dull, drab, and lifeless. Here's how to infuse a bit of life into them.
5 tablespoons castor oil
2 tablespoons lemon juice
1 hibiscus / shoe-flower 
Pound the hibiscus flower with a mortar and pestle till it's droopy and somewhat gooey. Add this to the castor oil and lemon mixture, and use a blender to turn this into a paste. Make sure the flower has been pureed into a fine paste. You can make a double or triple batch and put it in the refrigerator for further use. Apply this goopy mixture to your scalp and hair and leave on for 10-15 minutes. Shampoo and style as usual for shiny locks.
While all these masks are good for the hair, remember to immediately wash off in case you feel any tingling or itching on your scalp. Also, buy organic castor oil from a trusted source – go for cold-pressed castor oil if you have curly hair and Jamaican black castor oil if you have straight hair. Jamaican black castor oil is made with the roasted castor bean, into which the ashes are also added, thus the color. By the way, have you tried to go the organic coloring way to prevent hair damage? Hope you did or will do, and meanwhile, we are sure that one or more of these hair masks will help find you better hair days!