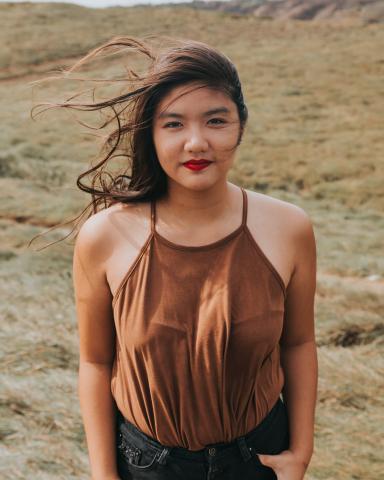 Do you love following green beauty trends? Well then good news: I've got the inside scoop on what lip colors are big this fall. Let's just say it's time to update your makeup routine! Earthy, dark colors are in, so get ready for some bold lips! Here, I'll share with you the colors to look out for (and try for yourself) as well as some of my favorites to get the job done. The products I list for each color are the best of the best and will really help capture the beauty of this season while staying trendy. The best part is, all the makeup I link to is natural. Instead of being filled with harmful chemicals or synthetics, they're made using naturally sourced ingredients. I'm a firm believer you don't have to sacrifice health for beauty, so this fall, rock your trendy look without the chemicals. I guarantee you: you'll have both your friends', and your body's, respect.  
Earthy Red Lips
A lot of people tell me they're afraid to wear bright red lipstick. I think this is understandable, but I still encourage them to try. After all, not all reds are created equal. For those afraid of too much brightness, I'd recommend an earthy red color. It's perfect for the fall because this is literally the color you'll see on a lot of changing leaves. Try this vegan lipstick in the color Lagos from Pixllady. It's red, yes, but it's got an earthy appeal to it with a satiny finish. The particular lipstick I linked to is made by a brand I trust: It's completely vegan and cruelty free. Not to mention it's also free of carmine, palm oil, mineral oil, parabens, talc, silicone, and dyes. The ingredients are completely safe, consisting of sweet almond oil, coconut oil, shea butter, and so on. Plus, I've tried their lipsticks before and I can guarantee you myself that their lipstick glides on effortlessly. It does not dry out your lips and provides great color! Plus, I love the earthiness of this red. Red lipstick is everywhere this time of year, but keeping it down to earth will make you more likely to wear it just about anywhere. 
Deep Eggplant Lips
I've been noticing one trend pop up over and over again this fall: Purple lips! Of course, not exactly bright purple, but deep purple. Honestly, it looks really good on almost everyone I see wearing it, so don't knock it until you try it. It's perfect for fall too, because it captures that moody, magical atmosphere. Plus, there are some trees that turn a deep purple color in the fall and they are stunning. Try this cocoa butter infused semi-matte lipstick in the shade Aubergine from 100% Pure. It's guaranteed to stun everyone and have all eyes on you. 100% Pure is a great brand who uses fruit to pigment their makeup. Not all their products are vegan, but this one is. They are a cruelty-free company though, so that's fantastic. This particular lipstick (in the shade Aubergine) is a beautiful deep eggplant with a matte, opaque, and long-lasting finish. The cocoa butter, along with the shea butter and vitamin E, help moisturize your lips while providing amazingly rich color. Personally, I love 100% Pure, and feel you cannot go wrong with their products, so I highly recommend trying this out. Besides, who doesn't love a bewitching look come October? 
Vampy Red Lips 
In fall, I truly love a good old fashioned vampy look. That's why a dark red lip is essential come October. Even better, make it a matte lipstick for extra boldness. Try this matte liquid lipstick in the color Happy Hour from Spela. It will definitely create the perfect bold, but sultry, fall-time look. It is vegan, cruelty-free, paraben-free, and GMO-free, which is ideal. It's very long lasting, and non-drying for your lips (probably thanks to the vitamin E in it). This sort of lip color is perfect for night life: Wear it to a club, bar, concert, or party. You'll definitely capture everyone's attention.  
Chocolate Brown Lips
Another trend I've been noticing is dark brown lips. It's not as common as vampy red lips, or even dark purple lips, but it's there. And honestly, I think it's lovely. This is a great color for those who love earth tones. I could see it paired well with a gentle smoky brown eye too. Try this Eternity Lipstick in shade Ember from Au Naturale. This lipstick is 100 percent natural, vegan, and cruelty-free. It's so very nourishing for your lips thanks to the shea butter in it, so it won't dry you out too much. The actual shade itself (Ember) is perfect for day or night, depending on what eye makeup you're wearing (and how daring you're feeling). This lipstick is the perfect color to go with a nice cup of coffee on a chilly fall morning. Or, if you're a tea person (like myself), perhaps a chai latte. Don't you agree?  
Soft Nude Lips
I know I mentioned earlier that dark, bold colors are in this season, but there is one exception to this rule: A soft nude color. This look never goes out of style, and I'll tell you why: It's perfect for any occasion. It can both balance out dramatic eye, or create a sweet, clean faced look. Try this soft mauve nude in the color Chere from Vapour Beauty. It's perfect for pairing with a bold smoky eye. This actual lipstick itself is made using only the finest ingredients, too: organic castor oil, organic beeswax, organic jojoba oil, etc. There are only a few ingredients that aren't organic (simply because they cannot be certified organic unless they are consumable – not because they are unsafe). This lipstick is the only one on this list that's not vegan (it does contain beeswax), but it is cruelty-free, chemical-free, and 100 percent natural. And here's a cool tidbit that the other lipsticks can't claim: It was made using wind power. The labs (where they create the products) are powered using wind power (and passive solar power). Yay for renewable energy and natural makeup! 
Disclaimer: There is no financial affiliation with the brands/products mentioned in this article.