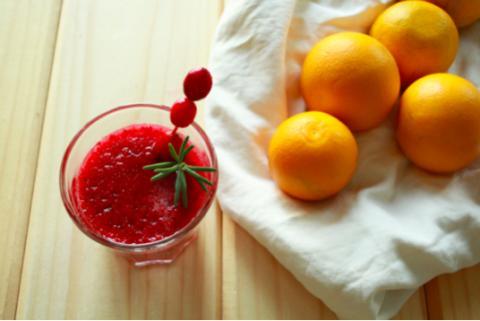 Would you like to clean up from the inside out or give your immune system a boost? Cranberries are packed full of detoxifying nutrients that can guard your body against disease. Today I'll teach you how to harness their nutritional powers by creating a drink that will give you a huge dose of protective plant elements.
Cranberries are in season throughout fall and winter. You'll get the most nutrients from the fresh fruit, so go pick some up while they're still in season; this delicious, healthy drink will have you missing them come spring.  
Why Cranberries?
The humble little cranberry is an underrated superfood. It contains a good amount of vitamin C, but there's much more to its outstanding nutritional profile. It outranks nearly every fruit and vegetable in antioxidants, including strawberries, spinach, broccoli, red grapes, raspberries, and cherries. One cup of cranberries contains 8,983 antioxidants, second only to blueberries. Antioxidants protect the body by neutralizing free radicals that are generated during normal metabolic processes, and as a result of exposure to environmental toxins like ozone, cigarette smoke, air pollutants, industrial chemicals, and x-rays. An excess amount of free radicals creates oxidative stress in the body, which can trigger a number of diseases and accelerate aging. Cranberries are particularly rich in phenols, potent antioxidants that are more powerful than those found in most vitamin supplements. Along with all of those great antioxidants, cranberries contain anthocyanins and proanthocyanidins, enigmatic polyphenols that give them the ability to reduce inflammation and prevent harmful bacteria from getting cozy in our bodies. 
Beyond the Sauce
Have you ever tasted a fresh, raw cranberry? The first time I popped one in my mouth, I immediately withered under a small shock of bitterness. Consequently, I, like so many other home cooks, relegated them to a single purpose for the next 20 years—sauce. Fresh cranberries create a sauce that surpasses the canned jellied version in every way, but there are other delicious ways to enjoy them, too. They're great in sweet tarts, paired with ricotta on crostini, in braised cabbage, and in drinks. Blending cranberries into a drink has one distinct advantage over other ways you can eat them: their nutritional value is most accessible when the fruit is eaten uncooked. 
Putting It Together
You won't have to worry about excessive bitterness with the cranberry detox elixir I'm sharing today. In it, cranberries' sharpness is balanced by the sweetness of oranges, cinnamon, and stevia, producing a zesty but balanced and satisfying drink. Cinnamon bark essential oil is a must here over the dried spice, both for its texture and perfumey flavor. Also, just like with cranberries, ingesting essential oil unheated means all of its nutritional goodness is preserved. Stevia is derived from the stevia plant, a sweet herb that has been eaten in South America for more than 1500 years. The sweetness of stevia products varies, but one manufacturer describes the plant's leaves as 20 times as sweet as sugar. Despite this profound sweetness, many people find stevia has a bitter or menthol flavor, especially when consumed in generous amounts. This sweet/bitter profile both harmonizes with and lifts the flavor of cranberries in this drink. When buying liquid stevia, choose one that's pure and free of alcohol, artificial colors, flavors, and preservatives.
The abundant fall harvest, with all of those wonderful squashes, apples, and citrus fruits, is anticipated by many of us, but by the time January rolls around, it's not uncommon to begin to dream of spring. Maybe this is due to the unsettled human spirit, or simply because we've been snowed upon one too many times at this point. Whatever the reason, it's delightful to realize the magical little cranberry is there in the middle of all of that. Cranberries' remarkable phytonutrients likely evolved together with their resilience. Although they're dainty and rather thin-skinned, they, like the rest of their fall/winter friends, are remarkably sturdy. If stored well, they'll hold up in your refrigerator for up to two months according to a number of sources, but don't leave them waiting for long. Cranberries will not only add a wonderful tart flavor and beautiful ruby red color to your winter table, they'll also impart you with some of the best nutrients around.
Cranberry Detox Elixir
Servings: 1
Ingredients
1 cup fresh cranberries
1 cup purified water
1 Valencia orange, seeds removed and juiced 
5 drops liquid stevia
4 drops food grade cinnamon bark essential oil
Directions
Rinse the cranberries and place them in a food processor or blender. Add water, orange juice, and stevia. Blend on high for 4 minutes.
Place 1 tablespoon of water into a glass and add the cinnamon bark essential oil. Using a non-reactive utensil, stir to combine. Add the cranberry mixture to the glass and mix again. Serve immediately.
Photos by Shiraz Leyva