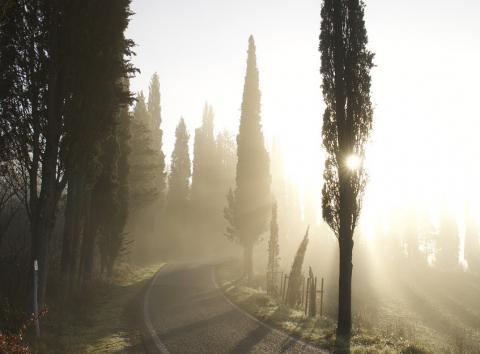 Cypress essential oil is distilled mainly from the leaves and twigs of Cupressus sempervirens, the cypress tree. If you've seen the pointy evergreen trees in Van Gogh paintings, then you know what cypress looks like. The scent is warm, woody, green, and balsamic with some spiciness and sharpness. The leaves themselves have a wide variety of traditional medicinal uses, from the respiratory tract to the reproductive system.
Emotional Support During Change
"Sempervirens" means "everlasting," and indeed, cypress trees can live for many centuries. In fact, they've even been used for historical climate reconstruction models. This long-lived tree has, interestingly enough, a very long association with death and dying. The tree is common in cemeteries, where it symbolizes the connection between here and the beyond, much like spires or steeples on places of worship. Cypress boughs were used in funerals as symbols of both remembrance and transitioning on after death (1).  All of which leads me to a traditional use of the scent: Comfort in the face of fear, heartbreak and grief (2).
Cypress is especially used for fear and grief around dying for both the person on the way out and also their loved ones who will, for a time, remain behind. For this, I've had clients and friends turn to cypress, incorporating it into small rituals or even simply scenting the room with a drop of oil.  I prefer cypress to rose oil right after a loss. Rose is a great heart opener and often reached for in these circumstances, but I like to give the heart some time to strengthen before working on opening again.
Other significant life transitions that cypress can help with include separation or divorce, loss of a job, change of location…pretty much anything impacting the emotional heart and triggering fear and insecurity.  In fact, I currently have a vial of the oil on my desk for sniffing, so it's an oil I turn to myself.  Cypress lends a bit of ease for depression and provides some motivating energy to keep going after a loss.  At the same time, it can help with disrupted sleep during emotional turmoil.
Cypress Room Spray Recipe
Here is a lovely room spray recipe for use before, during, and after difficult transitions.
Ingredients
10 drops Cypress
8 drops Frankincense (Boswellia carterii) - letting go, fear, anger
6 drops Lavender (Lavandula angustifolia) - tension, depression
4 drops Juniper (Juniperus communis) - protection, motivation
1 drop Patchouli (Pogostemon cablin) - perspective
1 drop Jasmine (Jasminum spp) - sweetness, comfort
2 oz. carrier liquid (like vodka)
Directions
Add 20-30 drops of the blend to two ounces of carrier in a glass spray bottle. (I use vodka, usually.)  Water will work but you have to shake it well as you spray, since the oils float on top of the water.
Support for Physical Issues
Cypress is a supremely useful oil to have around with its wide variety of benefits. Use it via inhalation or diluted as a topical for…
Some warn against cypress oil usage during pregnancy or with a history of uterine fibroids, estrogen receptor-positive cancers, or with cancer in general. However, there is not agreement on this among various aromatherapists. There seems to be little supportive research related to the estrogenicity of cypress. Note that many botanicals influence reproductive health without overt estrogenic function. Two studies do suggest estrogenic effects on bone growth, only one of the studies being relevant to the essential oil. Neither study found estrogenic effects in the uterus, which would be relevant to fibroids or uterine cancer. In fact, a component of cypress essential oil inhibited estrogen production by aromatase, an enzyme that's activated by estrogen receptor-positive cancers.  Cypress oil even kills cancer cells in a dish, though how this translates to real life isn't known.  So, while the jury seems to be out on this one, it's always good to err on the side of caution.
Additional references
Brand, J (1905) Brand's Popular Antiquities of Great Britain: Faiths and Folklore. Volume 1. Reeves and Turner, London.
Schnaubelt, K (1995) Advanced Aromatherapy. Healing Arts Press, Rochester, Vt. 
Keville, K & M Green (2009) Aromatherapy: A complete guide to the healing art. 2nd Edition. Crossing Press, Berkeley, CA. 
Worwood, V (1991) The Complete Book of Essential Oils & Aromatherapy. New World Library. San Rafael, CA.