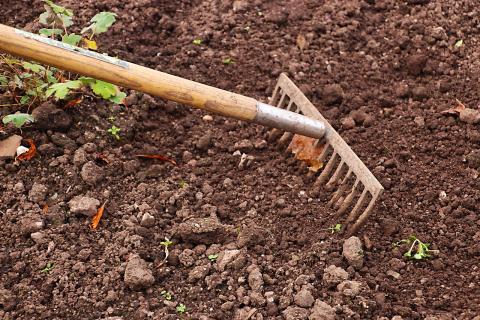 Gardening in May can be delightful—or delightfully treacherous. One year can bring early spring sunshine while another can bring weeks' worth of downpours. In some cases, frost can continue until the end of the month. While no one can account for freak weather, there are many must-dos during the month that can ensure your blooms are vibrant and your garden productive all summer long.
Before beginning, it's important to know your zone. The Plant Hardiness Zone allows you to determine what plants will or will not do well in your region. That said, there are many tasks that can be started anywhere in the country.
Clean Up
If you have more than a few days of clear weather, take advantage of dry ground and tidy up. This is a great time of year to pull weeds (think dandelions, which are best removed before blooms turn to seeds), cut English ivy (it's highly invasive and can grow enough to constrict trees), and prune unruly branches.
Keep in mind that gardening isn't always done solely in the garden. Think about washing outdoor furniture (consider making your own green cleaners) or using a pressure washer to remove a winter's worth of grime, moss, or pollen from decks. This is also a great time to safely clear gutters of debris.
Plant or Transfer Seedlings
For those living in cooler areas of the country, it can be helpful to start seeds in seed starter packs or reused egg cartons. Beginning in May, many of these can be transplanted to the garden. For most zones, this includes carrots, beans, corn, tomatoes, and beets. Ensure that nights aren't dipping below 50°F before plants are sown directly into the soil.
If you live in more Northern parts of the U.S., plant watermelon, cantaloupe, zucchini, pumpkin, and a variety of squash seeds into seed starters.
Many early spring vegetables can be sown directly into the ground. Try a variety of lettuces (romaine, spring mix, radicchio, and arugula), Swiss chard (Rainbow lights) or kale (lacinato, curly, and dinosaur).
Start Your Compost Bin
Compost bins can be a pain to start in the winter thanks to cool, even snowy, weather. If your compost bin is already in use, turn it to aerate the soil.
Keep Watering
Even if rain is predicted, ensure that you continue to water your plants on dry days. 
 
Fertilize
Spring is a fantastic time to fertilize plants like rhododendrons and various perennials. Most guidelines suggest fertilizing in early spring and once more following the first blooms. 
May can be a good time to address any lawn issues; then again, it can also be an opportunity to ditch your lawn and begin a garden where your lawn currently is.
Tend to Houseplants
Don't forget about your indoor plants. Houseplants may have outgrown their pots and can be in need of fertilizing. 
Go Native
Migratory birds, butterflies, and bees may be coming to your garden—invite them to stay by creating a native plant garden. Visit your local nursery to inquire about local plants. Cone flowers, salvia, delphinium, black-eyed susans, and milkweed are often popular with butterflies. These perennials can be planted now for terrific blooms throughout the summer.
Try Hanging Baskets
Hanging baskets are in full display right now. Ensure you keep watering these throughout the summer.
Grow Succulents
Succulents grow well this time of the year. You can propagate succulents by taking cuttings and placing them in water until you see new sprouts form. Then, plant in pots or directly into the ground.
How do you get your May garden ready? Stay tuned for how to care for your garden in June.