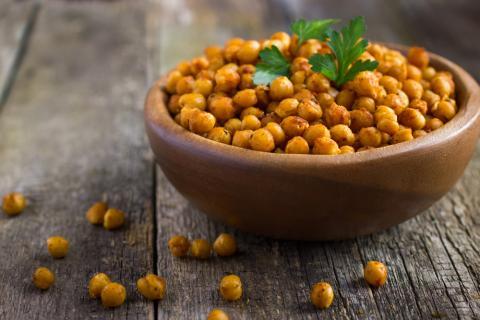 Chickpeas, also known as garbanzo beans, are powerful little legumes with high amounts of fiber, vitamins A and E, manganese, and folate. They originated in the Middle East and were cultivated for thousands of years, with evidence of their origin dating back to 3000 B.C.. This study, published in 2016, suggests that chickpeas can play a role in weight management and both glucose and insulin regulation. Many vegetarians and vegans rely on chickpeas as a source of iron and protein; half a cup provides 6.2 mg (half a man's recommended amount and one third a woman's) and 19 grams of protein. 
Most people are familiar with chickpeas as one ingredient in the deliciously creamy dip known as hummus. Others might have tried falafel, a baked or fried ball made from ground chickpeas or chickpea flour. And while we're all familiar with simply tossing chickpeas onto a salad and calling it a day, there are a surprising number of ways to make the humble chickpea a lot more exciting.
1. Roasted Chickpeas
This recipe is so simple it almost doesn't need instructions and there's plenty of room for creativity. Dislike garlic? Try paprika instead. Hoping for sweet rather than savory? Drizzle on honey and add a sprinkle of cinnamon. Like to keep things simple? Then follow the recipe below.
Ingredients
1 can or 2 cups rinsed and drained chickpeas
1-2 tablespoons olive oil
spices of your choice (paprika, garlic, cumin, curry, turmeric, cinnamon, etc.)
salt and pepper, to taste
Directions
Preheat over to 450°.
Thoroughly dry chickpeas by laying them out on a kitchen towel or paper towel and gently rubbing them dry. 
Once dry, transfer chickpeas to a cooking sheet and drizzle with olive oil. Sprinkle on preferred spices and bake 20 minutes, or until crunchy and lightly browned. Be warned that cooking time (and resulting crunchiness) will depend upon the dryness of the chickpeas.
These make a terrific snack by themselves, or as a creative topping to a salad. You can even add a few to hummus for a fun display.
2. Socca
I first heard about this recipe several years ago on a health food blog and was immediately entranced. Chickpeas—as a a bread? Socca originates in Italy but is prolific in France, specifically near Nice; in Italy you will find it as farinata, which translates as "from flour." Indeed, this thin bread (which looks somewhat like a crepe or a thin-crust pizza) is made from flour: chickpea flour. While most in Europe enjoy it on its own or with a good glug of olive oil, variations now include toppings like avocado, feta, or egg. Whichever way you eat it, it's good.
Similar to the recipe above, socca can taste drastically different depending on your preferences. Most recipes suggest adding a touch of cumin, but I typically dislike the taste so leave it out. 
Recipe adapted from my favorite socca recipe from Davis Lebovitz.
Ingredients
1 cup chickpea flour
1 cup spring water
1 tablespoon olive oil (plus more for drizzling)
1/2 teaspoon Himalayan salt
Directions
Mix chickpea flour, water, olive oil, and salt. Let sit for one hour. 
Once ready, preheat oven to 450°. Place cast iron skillet in oven to heat.
Pour chickpea batter into the hot skillet, spreading as a thin layer. Remember: think crepe! After all, you want the middle to be cooked.
Cook in oven until the top becomes slightly browned. Remove, drizzle with olive oil, and enjoy.
3. One-bowl Fake Egg Salad (Or Smashed Chickpea Salad)
A good egg salad, specifically my mom's egg salad, is just about my favorite dish. But this vegan egg salad, made with chickpeas instead of eggs, is a close second. There are plenty of variations of this recipe, and your preferences are likely based on how you grew up eating egg salad, but here's mine. I think it's pretty good, but see for yourself.
Ingredients
1 can of rinsed and drained chickpeas
1 tablespoon avocado-oil mayonnaise (sub avocado or use vegan mayonnaise to make vegan)
1 stalk chopped celery
1 chopped dill pickle
1 chopped red pepper
1 tablespoon mustard (I like dijon)
salt and pepper, to taste
Directions
In a bowl, mash chickpeas until fairly smashed.
Add all other ingredients and mix well. 
Serve on top of a salad, or in "boats" of romaine lettuce or collard greens. For another variation or to make vegan, sub avocado for mayonnaise. This fake egg salad works well as a sandwich, too.
How do you enjoy your chickpeas?