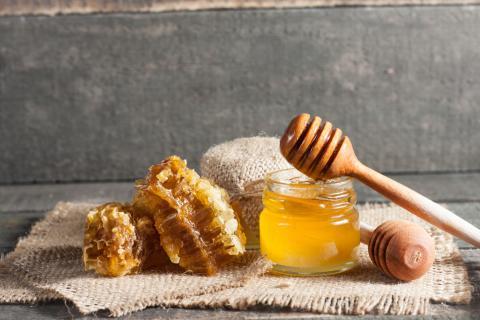 To put your game face on, stop with the off-the-shelf face wash and try these one-ingredient all natural and organic cleansers instead…
Washing your face shouldn't be a chemically-loaded sensory experience that makes your skin feel stretchy rather than clean, right? For the days you do not have the time or the energy to muster up a homemade face wash, we give you these simple standalone ingredients instead. These organic and naturally found substances can clean your face in a jiff and also help moisturize your skin for a beautiful and soft glow.
ALLERGY NOTE: In case you have had an allergy to any of these ingredients, please skip them and move on to the next. Your skin will react to any ingredient you have had a food allergy to, so please take care.
1. Raw Honey
Honey is great for your skin in more ways than one. It's antibacterial so it can really take care of that acne. It's also an emollient which means it will make your skin retain essential moisture, for a supple glow. Plus, it can open clogged pores as well as give your skin an antioxidant boost—taking care of those fine lines. To clean your face with honey, simply pour some on your palm and warm it a little by rubbing it. Now apply the same to your face and massage in for 2-3 minutes. Leave on for another two minutes and wash off with a little warm water followed by splashes of cold water.
2. Coconut Milk
Coconut milk is loaded with nutrients and basically is great skin food. It can moisturize parched skin, alleviate sunburn, and help in maintaining skin elasticity, and since it's fatty in nature, it can effectively remove makeup as well. If you have makeup on, pour some coconut milk onto a cotton pad and use it as you would your cleansing milk. Else pour some onto your palm and gently massage in for a minute before rinsing off with warm water.
3. Full-Fat Yogurt
What can yogurt do for your skin? Well, try what all it can't do, which is next-to-nothing! It can cleanse, brighten pigmented skin (lactic acid), fight acne (zinc), and even bust inflammation and zap zits. Drop a blob of cold, unsweetened yogurt onto your palm and massage your skin with it. It will feel heavenly. Full-fat yogurt may help remove makeup as well. Wash off with warm water. You can also use a cold milk-soaked cotton pad instead or opt for milk cream if you have really dry skin.
4. Aloe Vera Pulp
Aloe vera is probably as great a healer for your skin as time is for your soul. It's anti-inflammatory and a great option for even the most sensitive of skins. It can also soothe sunburn and lock in the skin's natural moisture to keep it soft and supple. To use, simply break a leaf of aloe and wash it well. Now split it open and scoop out the inner translucent pulp with a spoon and mash it a bit to soften. Use this to massage your skin for a couple of minutes and keep for five more. Wash off with cold water to feel fresh.
5. Fruit Pulp or Juice
Sounds zany but really, all fruit pulp and juice have their own versions of alpha-hydroxy acids (AHAs). AHAs help in micro-exfoliating the skin of all its dead cells, and help in increasing the pace of cell rejuvenation that tends to slow down with age. This, in turn, lightens pigmentation and, with prolonged (and patient) use, scarring as well. Just make sure to use a different fruit pulp or juice every day to avoid any irritation. Mostly all fruits will work and will provide benefits. Think mashed banana, mango, papaya, berries, or the juices of watermelon, orange, lime, apples, etc. The pulp can simply be massaged in and washed off after a minute or two while a cotton pad can be used to let the skin soak in the juice before you rinse off with cool water.
6. Vegetable Pulp or Juice
Vegetables are bursting with all the goodness of plant nutrients—raw vegetables even more so. 
Each vegetable comes with its own set of benefits
. Pumpkins and carrots aid in softness and eradicating sun damage, cucumber and potato can help tighten the skin, squashes and gourds can add a dose of cell-rejuvenating vitamins and minerals, while bitter gourds can eradicate spots and zits. Even slimy veggies like okra can add a much-needed dose of moisture. Simply cut the veggie of the day into cubes and mash or pound to soften, or cook to soften. Massage the pulp on your face and keep on for a minute—wash off with warm water to eradicate any lingering smells.
7. Virgin Olive/Coconut Oil
The easiest way to remove makeup in a jiffy. Massage your face and lips with any of these cold-pressed oils until the makeup begins to run. Wipe off with a cotton pad. Repeat for stubborn makeup and rinse off with warm water to get some of that oil off your face. No makeup, no clogged pores, and soft skin—all you need from a cleanser. Plus,
coconut oil
can help 
protect your skin from sun damage
, too. 
8. Cold Rose Water
Rosewater
, especially if you make oodles of it at home, has tons of 
good things to give to your skin
, topped with the lovely scent of blooms. You can simply pour cold rose water onto a cotton pad and wipe your face with it. The coldness of the water will alleviate swollen eyes and any topical redness.
9. Gram Flour
Okay, we are cheating on this one. Since gram flour is a powder, you cannot dry wash your face with it. All you need to add is a little cold rose water, or even milk to make it a slightly runny paste. Wash your face with this paste, scrubbing the T-zone (forehead, nose, and cheeks) well before washing off with cool water. If you run out of rosewater, cold milk or cold water will do the trick.
10. Apple Cider Vinegar
Along with all the goodness that apple cider vinegar does if you drink it, it's a great topical agent for the skin because its anti-microbial properties can tackle acne and inflammation well. It can also reduce age spots because it's rich in the same thing that apples are rich in too—AHAs. Just remember to dilute it with water in a 1:1 ratio because if you use the full concentration, it may dry out the skin.
As long as it's good to eat and not overly harsh, most raw kitchen ingredients can double up as great skin ingredients as well (save the fiery ones)! If you have a cleansing hack, be sure to share it with us in the comments section below. As always, if anything irritates your skin and causes a reaction, stop using it immediately and do visit your dermatologist to rule out any damage.