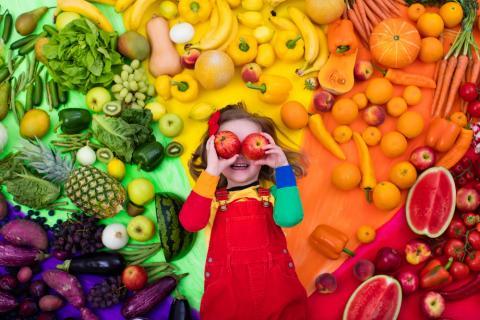 Kids may be out of school for the summer, but that doesn't mean that they need to live off of a diet of microwaved pizza, fruit roll-ups, and Slurpees. It's likely easier than you think to prepare ready-to-go snacks between summer camps and beach days, and even simpler to ensure that they're healthful, providing your children with antioxidants, vitamins, and minerals that are especially needed during childhood. Providing more than carrot and celery sticks can be a challenge when you're still working, trying to figure out childcare, and exhausted on ideas—so try these options for healthy summer snacking:
1. Salad-in-a-Jar
This snack might not sound immediately appealing to a child, but can be made fun by handing over the reins. If you have more than one child, prepare a quick spread by slicing vegetables, washing berries, cutting fruit, prepping salad greens, and boiling rice or quinoa. Then, let your child choose his or her own favorites to add to the mason jar. Your child can choose to include toppers like cheese (try feta, goat, or simply cubed cheddar), nuts (cashews, almonds, or hazelnuts), seeds (sunflower or hemp), or even canned wild salmon or sardines if kept cold. Let your child add a glug of olive oil, balsamic vinegar, apple cider vinegar, or even mustard. (Or make one of these!)
Salads-in-a-jar can work as both a snack or a meal depending on the size of the mason jar being used, and your child gets a whopping dose of nutrition.
Not sure where to start? Here's a simple, child-friendly salad option:
Italian Salad in a Jar
1/2 cup quinoa
1 cup spinach
1/2 cup cherry tomatoes
1/4 sliced cucumber
1-2 basil leaves
1-2 oz. goat or feta cheese
Drizzle with olive oil and lemon juice to taste.
Find more salad recipes here.
2. Kale Chips
Before you say, "my child would never eat that!" I urge you to give it a try. Kale is loaded with vitamin A, vitamin K, and magnesium, which makes it a healthful snack both raw and cooked. Kale chips can taste just as good as, if not better than, potato chips—when the stalks are removed and the remaining kale leaves are drizzled with extra virgin olive oil and a few sprinkles of sea salt. Simply roast at 400°F for 5-10 minutes, carefully watching that the leaves don't burn, and then let them cool. Believe it or not, you're going to need more than just one head of kale if you want this recipe to last.
3. Pickle Wraps
If your child is a fan of pickles, this easy-to-make recipe is a winner. Simply wrap organic deli meat, like turkey or chicken, around a dill pickle for a savory snack. For a vegan-friendly option, you can wrap collard greens, butter lettuce, or romaine lettuce around a pickle, especially when layered with mustard.
4. Hard- or Soft-Boiled Pastured Eggs
Don't skip past eggs! This simple food is high in protein and a fantastic source of choline, especially when pastured. Boiling a dozen eggs at the beginning of the week and storing them in the fridge makes for an easy grab-and-go snack. Sprinkle with Himalayan salt or a pinch of gomaiso, or leave unpeeled for your child to maintain his or her independence.
5. Fruit Ice Cream
Is your kid craving a cool treat on a hot summer night? Are you looking to provide your child with a boost of nutrition? Make the best of both worlds by blending frozen banana or frozen pineapple (good for the gut) with a very small amount of almond milk until pureed. For additional flavors, try adding frozen strawberries or blueberries; a dash of vanilla; cinnamon or cardamom; ginger or turmeric; or even a bit of honey or maple syrup for a bit more sweetness. This "ice cream" also pairs great with dark chocolate chips for an added treat.
6. Avocado Cups
Slicing an avocado in half and sprinkling it with a bit of salt is as easy as it gets. For a bit of a boost, try spooning honey mustard into the avocado's "cup" and spooning out the high-quality fat one bite at a time. Not excited? Make a smoothie or even a chocolate mousse out of avocado, or try these additional avocado recipes.
7. Sliced Vegetables, Fresh or Dried Fruit, & Nuts
Snacks don't have to be processed, or even really prepared, to be enticing and healthy. Simply preparing a platter of vegetables like bell peppers, cucumbers, cherry tomatoes, sugar snap peas, kohlrabi, jicama, and radishes, or fruit like apples, pears, nectarines, cherries, strawberries, raspberries and blueberries, makes it easy to choose a snack from the fridge. A few cups of nuts, dried fruit, or even homemade granola is fun to eat, too.
Snacktime doesn't have to mean processed foods with little nutritional value; likewise, it doesn't have to mean untouched vegetables and disgruntled kids. Try out the above snacks, and look to encourage your kids in the kitchen by asking them for a bit of help. Almost any child of any age can wash vegetables or fruit, and as they get older, peeling, slicing, and preparing snacks is almost entirely possible on their own, too, with a bit of adult supervision.
Lastly, just because these recipes are geared towards kids doesn't mean they don't work great—and taste delicious—for adults, as well. Enjoy!
What do you like to prepare for your kids in the summer? Which snacks do they love, and which ones do they hate? Let us know in the comments below!