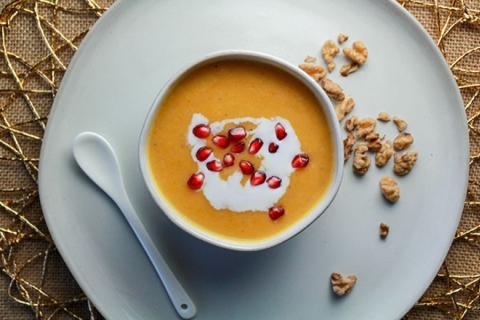 If I were to ask you which foods you eat to stay grounded, it might at first seem like an abstract or rather woo-woo question. But in Ayurveda, seasonal foods like winter squash are thought to do just that. And while none of us is in danger of physically flying off into the universe (thank you, gravity) there's good reason to ground with food during the fall and winter.
In Ayurveda, fall and winter are vata season, a time of excessive cold and dryness. When vata is out of balance, we feel spacy, accident-prone, and ungrounded. During the fall and winter it's suggested that we choose solid, stabilizing sources of nourishment. Cooked, warm, soft, protein- and fat-rich foods balance vata energy. Of course, we all know that food can warm our bodies. After all, many of us have felt the shock of biting into a hot chile, or the comfort of warm soup on a cold day. Just like foods can create heat in the body, they can also create air. This might be something you want during the wet spring, or kapha season, but in fall/winter, when it's already dry, quelling wind is among the orders of the day. Air can build up in the body and cause the mucous membranes and intestinal tract to dry out, leaving you vulnerable to illness. Sweet, heavy, and warm, winter squash has the ability to ground the body by combatting the effects of excessive wind. It's thought to have demulcent qualities that soothe and protect the body's interior skin. Yet another indication of the intelligence in nature, winter squash is in season just when we need it most.
Making Butternut Squash Soup From Scratch
In addition to protecting the body from dryness, squash soup has other advantages: pretty much everyone loves it, and it's easy to make from scratch.  All you really need is squash, an onion, liquid (water is fine), salt, and a blender. This recipe takes it a few steps further with additional ingredients like fennel, Sichuan pepper, and some delicious (and pretty) garnishes, but the basic idea is the same: cook the vegetables and blend them until you get a smooth, velvety soup. There are other things you can do to soothe yourself during the dry season, but aside from sitting in a bath of warm milk (my personal favorite), few are easier than making squash soup from scratch. It's so easy that you'll wonder why those boxed and canned versions ever came into existence.
Roasted Butternut Squash Soup with Fennel, Walnuts & Pomegranate
(Gluten-Free, Vegan-Adaptable, Whole 30-Friendly)
Serves: 4
Prep Time: 10 minutes
Cook Time: 1 hour, 10 minutes
Total Time: 1 hour 20 minutes
Ingredients
1 large butternut squash (about 3 pounds), cut in half and seeded
1 Tablespoon extra virgin coconut oil (or ghee or butter)
2 small garlic cloves, unpeeled
sea or Himalayan sea salt
1 small onion, chopped
1 fennel bulb (about 1 pound), cored and thinly sliced
3-4 cups water or stock
1/2 teaspoon ground Sichuan pepper
1/4 teaspoon dried ground chili pepper
coconut milk (to garnish)
chopped walnuts (to garnish)
pomegranate seeds (to garnish)
Directions
Roast the squash: preheat the oven to 400 degrees Fahrenheit. Line a baking sheet with parchment paper. Place the squash, cut side up, on the baking sheet. Put some oil (or ghee or butter), salt, pepper, and an unpeeled garlic clove in each half and bake until tender, about 1 hour. Set aside to cool for about 15 minutes. When the squash is cool enough, remove the garlic from it. Peel the roasted garlic and place it in a large bowl. Using a spoon, remove the squash pulp from its shell, combine it with the garlic, and set aside.
Heat 1 tablespoon of oil in a heavy-bottomed pot over medium heat. When the pot is hot, add the onions, and stir. Add the fennel, ground Sichuan pepper, ground chili pepper, and a generous pinch of salt. Cook until the vegetables are soft but not browning.
Add the squash and roasted garlic to the pot, stir, and raise the heat to high. Immediately add the water or stock, bring to a boil, and then reduce to a simmer. Cook for about 10 minutes, then remove from the heat and allow the soup to cool.
When the soup is no longer steaming, blend it using either a stick or stand blender until it has a smooth, velvety consistency. If the soup is too thick, add a little more water. Season generously with salt. Plate, garnish each portion with coconut milk, chopped walnuts, and pomegranate seeds, and serve.
Additional Cooking Notes
I suggest starting with 3 cups of water or stock because you can always thin a thick soup, but you might find you need that fourth cup.
For non-vegans: yogurt and crème fraîche also work as garnishes for this butternut squash soup.
Photos by Shiraz Leyva