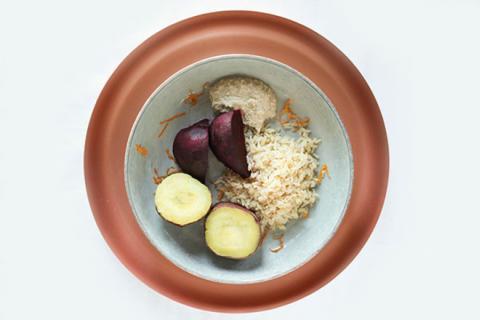 With the start of the new year, many of us shift our diets in favor of a clean lifestyle. But before you rearrange your plate, consider this: the season hasn't changed. In Ayurveda, this means you need the same level of deep nourishment in January that you did before all those festive holiday parties. So, if you're trying to give your body a break while still providing it with nourishing food, what are you supposed to eat? Try a bowl of steamed beets and sweet potatoes topped with creamy sesame tahini sauce. Along with a bowl of warm brown rice, this is a simple yet robustly flavored dish that will keep you feeling great.
Seasonal Ayurvedic Routines
In Ayurveda, we are intrinsically connected to seasonality. Each season is characteristically different and offers new opportunities for us to care for ourselves. Ritucharya are seasonal lifestyle and diet behaviors recommended to protect our health. In the early winter, ritucharya include massaging your body and scalp with warm herb infused oil, taking warm baths, and whenever possible, spending time in sunlight and fireside. As for our diets, this is a time for robust flavors and generous servings. Sweet, warm foods like beets, sweet potatoes, and sesame seeds are recommended to mitigate the season's cold, dry qualities, which tend to show up in our bodies as dry skin, digestive disturbances, and frantic moods.
How To Cook Beets & Sweet Potatoes
I love steaming beets and sweet potatoes in winter for a couple of reasons. While root vegetables can get a little dry if not roasted properly, steaming imparts moisture and offers the added benefit of being quick. Also, on cold winter days, steaming pots will warm your kitchen in a soul-comforting kind of way, and who doesn't love that?  
How To Make Tahini Sauce
Tahini is one of those foods which, once you find out how easy it is to make, you'll never buy premade again. And while real, pure tahini can be pricey, it's inexpensive to make at home. The tahini sauce in this recipe is meant to be acidic and salty to complement the sweet root vegetables. You'll end up with a rather thick, textured sauce, as a kind of baseline. If you'd like a more fluid sauce, don't hesitate to add more olive oil and/or water, or more salt for that matter. Do note: what seems like excessively salty tahini sauce might taste just perfect when served with steamed beets and sweet potatoes.
Coming Home To Ayurveda
Ayurveda is, in many ways, a common sense approach to life. We all know we should keep warm in winter, so ritucharya like covering the feet, wearing warm clothes, and drinking warm beverages during this time of year make perfect sense. But with diet it can be a little different. The idea that there's a best time to eat a beet, or that certain foods are warming, might seem foreign to many of us. This is reflective of how, over generations, our relationship with the natural world has shifted. We've become increasingly disconnected from nature, and by extension, the food we eat. But eating seasonally is how we've eaten during the majority of our evolution as a species. With that in mind, Ayurveda is perhaps less about reeducation and more about remembering. Many people find that adopting an Ayruvedic lifestyle makes them feel more awake, more alive, and just, well, happier. Of course, there are many reasons for this, not the least being that adopting an Ayurvedic lifestyle is like coming home to a wisdom that is already present deep inside of you. So, the next time you eat a beet in the winter, taste, let your body and your heart remember, and enjoy.
Steamed Beets & Sweet Potatoes With Tahini Sauce (Vegan, Gluten-Free)
Serves: 4
Prep Time: 10 minutes
Cook Time: 45 minutes
Total Time: 55 minutes
Ingredients
2 medium sized beets, scrubbed, trimmed, and quartered
2 sweet potatoes or yams, scrubbed and quartered (I used Japanese sweet potatoes)
cooked brown rice 
For the tahini:
1 cup sesame seeds
1 clove garlic, peeled
1/2 teaspoon sea or pink Himalayan salt
1 teaspoon ground cumin
3 Tablespoons extra-virgin olive oil
1/2 cup filtered water
1/4 cup freshly squeezed lemon juice
For the garnish (optional):
Directions
In a pot with a steamer basket, warm a few inches of water until steaming. Place the cut beets and sweet potatoes into the pot, cover, lower the heat to maintain a gentle steam, and cook for 30-45 minutes, until the vegetables can be easily pierced with a thin-bladed knife.
While the root vegetables are cooking, make the tahini sauce: use a food processor to grind the sesame seeds into a crumbly, mealy texture (this should take around 3 minutes). Add the garlic, salt, and cumin and mix again. Slowly add the olive oil, scraping down the side of the bowl as necessary. The mixture will be very thick.
Add the lemon juice, followed by the water, and process until you reach a creamy consistency. Taste, adjust the seasoning, and add more water if you'd like a thinner sauce.
After the beets and sweet potatoes have cooled, peel them, if desired, and plate them atop the brown rice. Add a dollop or some drizzles of tahini, garnish with orange zest (if using), and serve warm.
Additional Cooking Notes
Any type of sesame seeds—hulled, unhulled, raw, toasted, or sprouted—work here but each will create varying flavors and textures.
If you'd like a nuttier, less bitter flavor, toast the sesame seeds for 5 minutes over medium heat, until lightly colored and fragrant, before making the tahini sauce.
Use tahini sauce within a day. The steamed beets and sweet potatoes can be kept in an airtight container in the refrigerator for up to 3 days.  
Photos by Shiraz Leyva