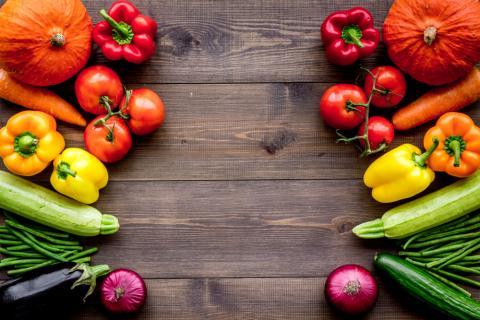 Last weekend, my husband and I made a list of recipes we wanted to enjoy during the week. We deciphered the ingredients, took the list to the grocery store, and picked up a week's worth of groceries. From there, we washed, chopped, cooked, and baked egg muffins, brown rice and quinoa, roasted beets and sweet potatoes, crispy chickpeas, and vegetable soup. This sounds like a lot of work, but all of this was completed in two hours and saved us more than double that time during the week. 
Why plan your meals in advance?
Meal planning means something different to everyone, from planning out meals a week in advance to the following day, or preparing food for one person to a large family. In addition to saving money, here are several more benefits that meal planning can have:
Save time. Meal planning can save time by reducing the minutes spent deciding what to make for dinner, going to the grocery store multiple times in a week, and cooking in small batches suitable for just one meal at a time.
Eat Healthier. Home-cooked food is almost always better for your body and your budget than restaurant counterparts. Controlling portion size, choosing higher quality ingredients, and cooking in more healthful manners are all more possible when cooking from scratch.
Reduce Waste. Roughly one-third of food that is produced worldwide goes to waste. Imagine tossing out one-third of whatever is currently in your refrigerator—that's a lot of missed opportunity. Meal planning can help avoid waste by providing time to take stock of what you already have at home. Why make pasta when you have zucchini, snow peas, and bell peppers—all of which make a great stir fry—about to spoil? 
How do I meal plan?
It can be overwhelming to plan out an entire week's worth of meals for you or your family if you've never tried it before. For this reason, starting out small is a good choice. Choose a few meals that you make regularly and work them into the week—bonus if they include an abundance of vegetables, healthy fats, complex carbohydrates, and lean protein. From here, make a list of ingredients that you'll need, doubling up on recipes that freeze well so that you can make two batches in one go—they take the same amount of time, but save time later in the week when all you need to do is de-thaw and heat! Choose a day to go grocery shopping; some meal planners suggest planning on Friday, shopping on Saturday, and cooking on Sunday, but I find my time is best spent using Sunday morning or early afternoon as the day in which I do all three. 
Overwhelmed? Start with these ideas!
Meal planning doesn't have to involve elaborate meals like homemade gnocchi or eggplant parmesan. Simply washing and cutting vegetables like celery, carrots, cauliflower, broccoli, or jicama, or cooking up several pots of brown rice or quinoa can save time. Salads can get a boost of flavor with the addition of nuts or seeds, so throw together mixed greens or spinach, toss in a few pre-cut vegetables, and adorn with hard-boiled eggs, raw cheese, or croutons for a satisfying meal. Avoid adding the dressing until right before serving to keep the salad fresh for the week. Here are several more ideas below:
Boil a dozen hard-boiled eggs
Make a chicken or tuna salad using homemade mayonnaise, celery, and curry powder
Slice fruit
Bake sweet potatoes and other root vegetables (think beets, carrots, or turnips)
Utilize the crockpot with soups and stews
Oven-roast a variety of vegetables to top salads with, enjoy with hummus, or eat plain
Stuck in a food rut?
Once you have the hang of meal planning and have been doing it for several weeks, you might find yourself choosing the same recipes often. To add creativity to your weekday meals, try incorporating theme nights. For example, Mondays could be Buddha bowl nights where every person creates his or her own grain-based vegetable bowl; alternatively, Fridays could be make-your-own-pizza night using pre-prepped mushrooms, spinach, peppers, or cheese. Additionally:
Knowing the weather can be helpful in deciding whether to have that light, fresh salad or that warm, filling soup. Choose recipes that work with the seasons.
Peruse the local farmer's market to get inspired. 
When looking for recipes, first take stock of what you already have. Wilting kale? A cup of almonds? A can of garbanzo beans? Use these search terms to find new recipes and use what is already available to reduce waste.
Forgot about perfection. There will never be a perfect meal plan—only one that works best for you and your life. 
When in doubt, keep it simple. Choose easier recipes during the week and save the more time-consuming recipes for the weekend. 
Do you meal plan? What tips or tricks do you use to save time during the week? Let us know in the comments below.