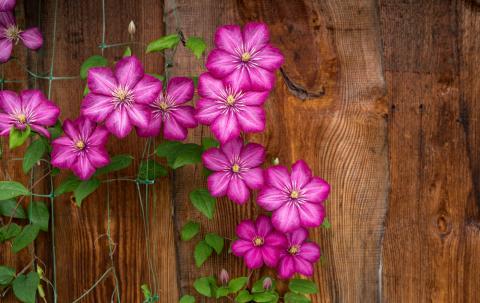 There are certain areas in a garden that beg to be covered with climbing plants: chain link fences and trellises come to mind.  A pretty vine can disguise an unsightly fence or provide more privacy.  Plants climbing up and across a trellis can provide shade or shelter in the garden.  And many fast-growing vines also have a lovely fragrance!  Really, there's no good reason NOT to include them in your garden—as long as you pick the right variety.
There are a few things to consider when choosing your vine…for example, choose an evergreen climber if you want to ensure year-round cover (and year-round privacy).  If you only need some shade to cover a pool or patio during the summer months, a deciduous vine might work, since it will lose its leaves in the winter.  If it's beautiful flowers and scintillating scents you're after, an annual might work best for you, although it's more work long-term.
Waiting for a plant to grow enough to cover something large-ish, like a fence or trellis, can take a while if your plant is a slow-grower.  To speed up the process and achieve the full finished result more quickly, turn to one of these fast-growing vines and climbing plants.
1. Clematis
Clematis is a great choice if you're looking for pretty blooms.  This popular plant comes in many varieties, and you can find almost any color flower you're looking for.  Most bloom in the spring, summer, or early fall, and you can find evergreen species (which has long, thin leaves) so they don't lose their leaves in winter, too.  Clematis likes the sun but will tolerate some shade too.
2. Trumpet Vine
If you're looking for a tall creeper, this is the one for you!  Trumpet vine or trumpet creeper as it's also known can reach as high as 30 feet.  It grows orange or red flowers that are tubular-shaped, making them perfect hummingbird flowers.  This is a perennial plant, and it's such a fast grower that some people consider it invasive—so be prepared to prune regularly or it can take over.  It likes both sun and partial shade, and can tolerate heat, cold, and even drought—and it's such a voracious creeper it can suffocate trees if you're not careful.  Use this one for quick growth, but consider planting in a container if you're not an avid pruner.
3. Climbing Hydrangea
Did you know this hydrangea can grow up to 50 feet tall?  That's pretty large, making it perfect to cover a patio or trellis.  Since it grows so tall, it does need substantial support, however.  It usually has white flowers and is a perennial, so you can enjoy its beauty for years.  The clusters of flowers have a fragrant aroma and the dark green leaves turn pretty yellow in the fall.  Climbing hydrangeas can tolerate full sun or partial shade, but they like rich, moist soil and can benefit from mulch, compost, and fertilizer.  Make sure to prune where branches rub together to avoid insects and disease entering the plant.
4. Honeysuckle
Honeysuckle is a perennial and many varieties have a long bloom season, making their fragrant flowers last even longer.  Another favorite of hummingbirds, honeysuckle has tubular flowers and can scale a 10-15 foot trellis in just one season.  You can find blooms in white, red, yellow, and there's almost certainly a species native to your area.  They like full sun but can tolerate a little shade, and they do need adequate support to be healthy.  Some species of honeysuckle can become invasive if not regularly pruned, but once a year is enough to ensure a healthy yet controlled plant.
5. Morning Glory
Some gardeners will tell you morning glory is an invasive weed, but if kept in check, the plant can create a beautiful vine of flowers with red, white, blue, purple, or even yellow blooms.  It's a mostly annual plant, and blooms will usually open in the morning and close in the afternoon from May through September.  They require very little care, making them one of the easiest vines on this list.  Water them once or twice a week during dry periods, but that's about all the care they need!