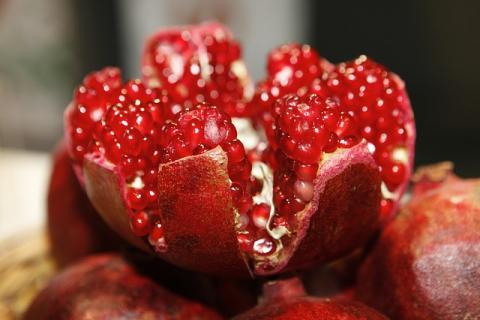 Fall is officially here, which can only mean two things...the world is about to go pumpkin crazy...and pomegranates are in season. For the sake of all of our orange squashed sanity, for this article, I'm going to focus on the surprisingly versatile pomegranate and present to you three delicious and unique recipes using this delightful Middle Eastern fruit.
When you cut open a pomegranate you'll find small "jeweled" seeds that contain the pomegranate juice. They have a slightly sweet, tart, rich berry-like flavor that goes great in smoothies and added to soda water. To remove the seeds, split the pomegranate in half, score the exterior rind, hold one half over a large bowl and whack with a wooden spoon; this should get most of the seeds out with ease.
Not only do pomegranates taste delicious, but they are incredibly good for you, too. The name of the game here is their antioxidant content, namely punicalagin, an extremely potent antioxidant which also acts as an antibacterial. These fruits are teeming with antioxidants -- in fact, pomegranates contain more antioxidants than red wine, grape juice, cranberry juice, green tea or acai juice. Drinking pomegranate juice regularly can reduce oxidative stress on tissues and protect against heart disease, cancer and cognitive impairment.
On to the recipes!
Pomegranate Glazed Salmon
Makes 2 servingsTo truly showcase the pomegranate I decided to reduce its juice down in a saucepan and ended up with the most amazing and pungent pomegranate molasses. Pomegranate molasses is used in the culinary world as an alternative to balsamic vinegar, and it can be used for glazes on meats, in curries, for salad dressings, etc. I used it in a marinade for salmon, and it turned out great!
For Pomegranate Molasses:
8 oz pomegranate juice
2 tbsp honey
Add ingredients to a small saucepan. Bring to a boil and then reduce to simmer. Reduce liquid until about 1/2 a cup is left. Don't worry, it will thicken up once cooled! Store in refrigerator in sealed container. Pomegranate molasses can be a great addition to other recipes, too!
For Marinade (for two 250 g salmon portions):
1 tbsp lime juice
1 tbsp pomegranate molasses
2 tbsp olive oil
1 inch of ginger, minced finely
2 tbsp chopped cilantro
1 tbsp chopped fresh mint
Salt and Pepper
Combine ingredients in small bowl. Put salmon portions into a small plastic bag, and then add marinade. Massage gently and refrigerate for a minimum of 2 hours.
Preheat oven to 350F. Bake salmon for 10 minutes or until flaked with a fork. Serve with rice and mixed greens.
"Purple" Pomegranate Smoothie
Have you ever heard of the saying "Purple in the morning?" I'm pretty sure it's from a movie...Requiem for a Dream? But this philosophy is a great one to live by. Drinking "purple" smoothies upon rising is a great way to get your antioxidants in and protect/repair cells before the day begins.
1 cup pomegranate juice
1/2 cup frozen blueberries
1/2 cup frozen black cherries
Handful of frozen strawberries
1 banana (fresh)
Blend ingredients in a blender. Pour and enjoy!
"Jeweled" Cauliflower Rice Pilaf
Makes 6-7 portions.
It's amazing what can be done with a head of cauliflower -- it can replace any carb-counterpart (flour in pancakes, pizza crust and flatbread; potatoes in purees; and most famously the side dish known as rice!) The great thing about cauliflower is it will gladly take on any spice or flavor that surrounds it. My favorite way to flavor a cauli is with Indian-style spices and some pomegranate seeds. This rice would go perfect underneath a saucy chicken curry or even Pomegranate Glazed Salmon (recipe above).
1 large head of cauliflower, blitzed into rice
1 onion, chopped
1 clove garlic, minced
1/2 cup roasted cashews
1/2 cup toasted coconut chips
1/2 a pomegranate seeded
1/2 cup coconut milk (full fat)
Coconut oil, for frying
Handful of cilantro, chopped
1/2 tsp turmeric
1/2 tsp paprika
1 tsp cumin
1/2 tsp chili powder
1/2 tsp coriander
Salt and Pepper
Start by blitzing the cauliflower using a food processor (a blender may work but you won't get as uniform a texture). I only had one of those mini chop processors, so I had to do mine in batches (still worked great though)! Add onion to a large frying pan or Dutch oven, and cook until translucent. Add garlic and spices, salt and pepper, and cook for a minute (make sure it doesn't burn! Stir relatively constantly).
Add cauliflower rice and cook for a few minutes while stirring until rice turns color (from spices). Add coconut milk, and cook until cauliflower is cooked (3-4 minutes). Add cashews and coconut, and cook another 2-3 minutes, and then remove from heat. Add more salt and pepper as needed, as well as the cilantro and pomegranate seeds. 
Info Sources: 
http://www.galileenutritionals.com/Health-benefits-of-pomegranates-and-punicalagin
https://authoritynutrition.com/12-proven-benefits-of-pomegranate/