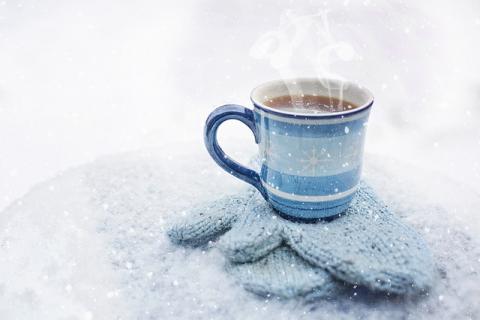 I love tea and coffee with all my heart and soul. But sometimes it's nice to change things up over the colder months, whether it's to cut down on caffeine or just for the sake of variety. There are so many drinks that can soothe, warm, and stimulate the body just as well as more commonplace options. Below are a few of my favorites!
Mexican Hot Chocolate
The addition of spices makes hot chocolate a bit more enticing to me. Try a grocery store with a Hispanic food section for pre-made mix, or even better, you can make your own with a simple recipe like this one.
Hot Almond Milk
For a different take on the comfort of hot chocolate, try warming some almond milk on the stove. You can use sweetened or unsweetened as you prefer, and additions like vanilla, honey, cinnamon, chocolate, or nutmeg can add extra sweetness or spiciness for the perfect custom beverage.
Bone Broth
Warming drinks can be savory as well as sweet. Bone broth has long been a tradition: in the interest of cooking with the whole animal, it's a way to use the bones instead of throwing them out. The rich protein and minerals in a bone broth also make it good for your health! Because of its current trendy status, you can find it premade in stores, but making your own is easy: try this recipe next time you have bones left over from a cooking project.
Ginger Tea
With just fresh ginger and water, you can make ginger tea. Peel and grate the ginger while bringing some water on the stove to a boil. The more you use, the stronger the tea will taste (if you make it too strong you can always dilute it with more water). Add the ginger and turn off the heat. After 10-20 minutes steeping time, strain the water and you're all set. If you'd like, you can add lemon, cinnamon, nutmeg, mint, or other herbs and spices while steeping; and you may want to add a natural sweetener as well.
Hot Ginger Lemonade
This is another great take on ginger. Use the same beginning process as ginger tea, but after steeping and straining, add lemon juice and honey (or another natural sweetener) to taste. This is the perfect beverage to soothe colds and sore throats.
Hot Carob
Carob powder makes another delicious alternative to hot chocolate. Use about one tablespoon of carob powder per cup of milk or milk substitute and heat on the stove, stirring or whisking until it's well mixed. Sweeten with honey and add a dash of vanilla extract.
Mulled Cider
Apple juice or cider heated on the stove over low heat with a few cloves, cinnamon sticks, star anise, and the juice and peel of a lemon or an orange makes for easy hot cider. Bring it to a simmer, strain, and drink. You can play around with different spices to make it your own!
Lemon Water Tonic
We've almost all heard about the health benefits of warm lemon water by now. But to make it a tonic, just add another ingredient or two for added benefits. Mint, cayenne pepper, a pinch of Himalayan salt, or some apple cider vinegar can add soothing, cleansing, or clarifying properties, depending on your needs.
The author is not affiliated with any of the websites mentioned above.