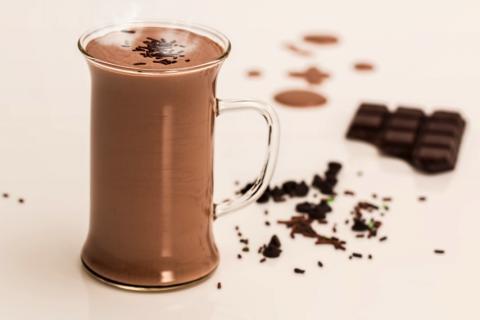 Cozy up with this delicious vegan drink after a cold winter day. Using rich dark chocolate and creamy almond milk, you can enjoy every bit of the classic taste you know from childhood. I add just a touch of peppermint extract to give it that minty holiday flavor, but you could easily substitute vanilla extract for a more subtle taste if you're not a fan of mint. Either way, be sure to top it all off with a few vegan marshmallows or some coconut whipped cream for the full effect!
Vegan Hot Cocoa Recipe
*Serves one
Ingredients:
1 cup unsweetened almond milk (or other nondairy milk)
2 Tablespoons semi-sweet chocolate (chopped)
1 Tablespoon sugar
1/8 teaspoon peppermint extract
Vegan marshmallows (optional)
Directions:
-Heat the almond milk in a saucepan over medium heat.
-After the milk is warm, add the chocolate and the sugar, stirring constantly until well-combined.
-Remove from heat and add the peppermint extract, stirring well.
-Pour into a mug and serve warm with marshmallows!