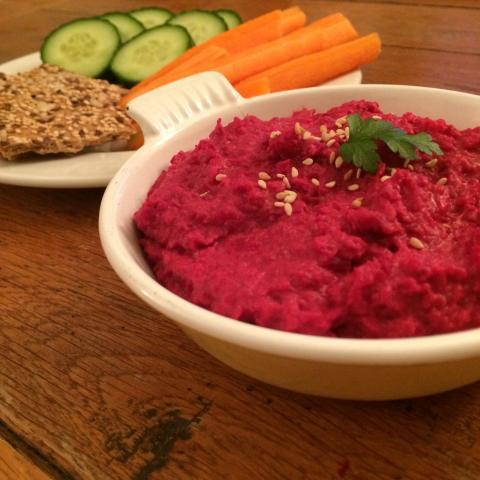 I am a predictable eater, especially when I know what I love to eat. Beets are one vegetable for which I will always reach, and so I find ways to incorporate them into classics…like this bright and beautiful beet ginger hummus, pulsing with warming, slightly spicy flavors I love. This recipe is awesome not just for the flavor, but because it brings some real vibrant color into the kitchen during the winter season. It reminds me of the strong magenta of a peony or a really rich summer fruit, and the ginger in it warms like the feeling of summer sunlight. It's delightful!
Combined, the three main ingredients of this recipe bring the best to the table, especially in this season of cold and sickness. Chickpeas are packed with protein and fiber beneficial to the digestive tract, beets are high in vitamin C and potassium, and ginger helps to boost the immune system with its cleansing qualities.
Bright Beet Ginger Hummus
*Whenever a recipe calls for one roasted beet, like this recipe, I go ahead and buy/roast more than I'll need. They'll keep for several days, and they're easy to throw in salads!
So, wrap several beets in tin foil, place on a cookie sheet (in case they leak!) and roast at 375F for about 30-40 minutes, or until they can be pierced with a fork. After they've cooled, under running water, gently slide away the beet skin with your hands. Chop roughly and toss 1 large (red) beet in the food processor.
Add the following ingredients to the food processor and blend well:
1 15oz. can chickpeas
2 cloves garlic
1 tablespoon tahini
Juice of ½ lemon
1-2 tablespoons of fresh ginger, depending on your desired "zip" (I also add a sprinkle of powdered ginger!)
1/3 cup olive oil (add more if you need, for the right consistency)
Sea salt and cracked pepper to taste
Enjoy this filling and eye-popping hummus with vegetables, crackers or slather it on a sandwich! Bon appétit!