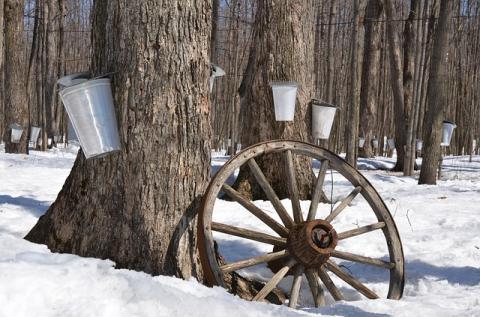 Did you know that maple trees are not the only trees that provide us with the sap necessary to make syrup? There are several different trees that produce a sap sweet and sticky enough to make delicious syrups and sugars. The sugar maple is one of the most well known and most common trees tapped because it has the highest sugar content –  which is key to a fine syrup. Not only do sugar maples have the highest sugar content but they also produce the highest volume and concentration of syrup as well. The sugar content from an average sugar maple is about 2% but there are a couple of trees that can match it!
Mid-February and mid-March are generally when Syrup Season kicks off. The sap needed for syrup making doesn't start flowing in the trees until the weather conditions are just right. The temperature needs to fall below freezing at night but then rise back up above the freezing point of 32 degrees Fahrenheit in the daytime. So, no matter what area you live in, as long as these conditions exist, then you can start tapping trees.
FAMOUS MAPLES
Before I tell you about the other amazing trees to tap let me tell you some of the other popular maples used for highly prized maple syrup. The top 5 maples are:
Silver Maple ~ Black Maple ~ Red Maple ~ Big Leaf ~ Sugar Maple
WALNUT
English Walnut – The English walnut tree is found mainly in the California area and is a good one to tap if the temperatures are suitable.
White Walnut (Butternut) – This sap contains the same percentage of sugar content as the sugar maple, coming in at 2%.
Heartnut – The heartnut tree produces less sap than a maple, but has a high sugar content – almost as high as the butternut and sugar maple.
SYCAMORE
Sycamore trees can produce a syrup that tastes slightly similar to butterscotch. The sugar content is much lower than 2%, but the flavor is worth it.
BIRCH
Birch trees seem to have the lowest percentage of sugars but you can still get a tasty syrup from them. The syrup tends to be a little bit runnier than the syrup from all of the other trees on the list, and due to the lower sugar content sometimes brown sugar is added.
River Birch – Like all the birch trees on this list, the sugar content is rather low but you can get a nice syrup yield.
Black Birch – The syrup from the black birch is mostly used for making birch beer and soda.
Yellow Birch – Once again this sap produces a much lower sugar content but it is full of antioxidants, which is a really big bonus.
Paper Birch – The sweetest of the birch family with a sugar percentage of 1%.
Gray Birch – This tree is much more like a shrub but if they get big enough they can be tapped.
CHOOSING & TAPPING YOUR TREE
Before you go pounding holes into your beautiful and very alive trees, it is important that you correctly identify them as syrup trees. Once you have your trees identified, look for big, healthy, and happy trees that are in good sunlight. If you can find a tree big enough, it can be tapped up to three times. Picking your trees is the easy part; tapping them successfully is the harder part.
Supplies & Instructions
A Drill & Bit
Hammer
Spiles (the tube that releases the sap)
Hooks
Buckets with Lids
You will want to drill your hole at least 3-feet from the ground. Once you've got your desired spot, drill a hole about 2 ½-inches deep. The size of the drill bit you need will depend on the size of your spiles. When the hole is ready, clear away any wood shavings and insert the spile and hooks. Gently tap the spile into the tree.  If there is any sap flowing you should see it pretty quickly. Hang your bucket with the lid intact. Your lid is very important for keeping out any debris, insects, and worst of all, the rain or snow. Even if you don't see sap yet you can leave your bucket and hope for the best.
Once you have been patient enough to let the tree work its magic and the sap has quit flowing, you can start cooking down your sap to create syrups and sugars. Keep your eye out for the next Living Off Grid Article and learn how to turn your simple sap into sugars and syrups. Syrup Season is upon us and it's time to start tapping!!