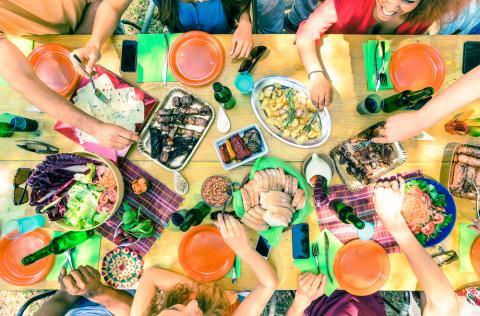 Aaah, it's June. By the way, that was a sigh of pure relief. I can already feel the relaxation settling into my soon-to-be well-rested bones. June is such a surprisingly pleasant month for numerous reasons—my absolute favorite reasons are because the weather is just dreamy, and this month marks the start of summer. To kick off your fabulous summer with your fabulous loved ones, be sure to immerse yourselves in some (or all) of these totally June-tastic activities.
1. Day Trips
What better way to spend a day than by going on a day trip? It's important to know that there are countless inexpensive, if not free, ways to stay entertained. Since the weather is gorgeous, visiting a local wildlife refuge, sanctuary, or state park might make the perfect afternoon.  Kids love learning about and seeing new animals.  Bonus: teach your kids to understand the mission behind animal/species protection and other environmental issues. Another great idea is to visit a local water park! Who wouldn't want to cool off while having fun in the sun?
2. National Adopt-A-Cat Month
Spend your summer bonding with your family, including a new, furrier than usual addition. It's time for responsible pet owners to rescue kitty cats from their local shelters! Just remember—adult cats need furever homes, too! Yes, kittens are so, so cute, but guess what? Full-grown cats are, as well! Also, adopting a cat may allow you to skip the litterbox training. If for some strange reason cats aren't or can't be your thing, adopting a canine companion is always an option. Do not forget to spay and neuter! There are too many loving animals in this world that have no place to go already. Don't add to the problem.
3. National Rose Month
Celebrate ravishing roses by planting your own little rose garden!  Another way to be rosy is to actually flavor various foods with rose. Yes, you can experiment with rose water by adding it to your homemade desserts! However, you must be careful because things can start tasting pretty perfume-y if you overdo it.
4. National Iced Tea Month
I'm a sucker for a glass of good iced tea. Get creative in the kitchen by making peach iced tea (my favorite!), lime mint, or apple, etc. Fresh, aromatic wild mint has always grown beside my pool, and now I know just what to do with it. Once your teas are ready to go, you can throw an outdoor iced tea party! Sounds like summer.
5. National Tennis Month
Fun fact: I had my eighth birthday party at a particular park just because there were tennis courts there; I was going through my wannabe a famous tennis star phase. These days, tennis doesn't sound nearly as appealing, but I still enjoy pretending I know how to play. Good thing my boyfriend and I bought some nice tennis rackets from a secondhand store a couple of summers ago! Get out there in the sunshine for a fun, friendly tennis match that doubles as a workout!
6. Father's Day
Father's Day is the day dedicated to everyone's beloved fathers. Celebrate the person who filled the father figure role in your life by having a BBQ for family and friends. Don't forget to make some homemade, heartfelt cards! Oh, yeah, baking a cake that's decorated to your father's liking is a nice touch, too. A way to a man's heart is through his stomach, right?