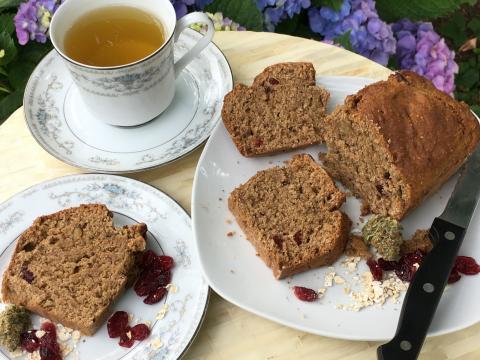 Canna-Banana Bread combines the anti-inflammatory power of cannabis with the nutritional benefits of natural superfoods.  The result is a hunk of deliciousness that stealthily delivers nutrition along with a dose of marijuana.  
Science shows cannabis acts as a potent anti-inflammatory.  Research suggests cannabis can help "regulate the immune system" and "suppress the inflammatory response."  And while medical marijuana certainly isn't FDA approved, there are numerous anecdotal reports that support this claim.
This recipe for Canna-Banana Bread utilizes superfoods like oats, coconut oil, ginger, walnuts, and dried cranberries to enhance the powerful anti-inflammatory benefits of cannabis.  Superfoods are loaded with nutrition and carry wellness-boosting properties of their own. 
This canna-banana bread packs multiple superfoods into one potent and yummy loaf. 
Use Caution with Edibles
Eating cannabis does not have the same physiological effects as smoking or vaporizing.  The body processes cannabinoids (the active components in cannabis) differently depending on the way we consume it.  
When we inhale smoked or vaporized cannabis, the psychoactive effects begin almost immediately.  Our lungs process the cannabinoids and deliver them rapidly to the brain. 
But when we eat cannabis, the cannabinoids must travel through the digestive system first. They are then processed by the liver before they are delivered to the brain.  The psychoactive effects take much longer to set in.
The body also produces different metabolites.  This results in most people feeling higher when eating cannabis compared to smoking it.  
Start Small and Wait 90 Minutes
If you're unfamiliar with how edible cannabis affects you, then start with a small dose.  You can always eat more after you identify how the first dose affects you. 
The most common cause of cannabis-induced anxiety is overconsumption.  Use caution not to overindulge: even though this Canna-Banana Bread is delicious, being too high is NOT FUN.   
It can take up to 90 minutes for the psychoactive effects to begin after eating an edible.  WAIT 90 minutes before consuming a second dose.
Avoid Green Outs
No one has ever died from a cannabis overdose, but consuming too much cannabis can cause extremely unpleasant effects.  It's commonly called a "Green Out."  Symptoms can include anxiety, dizziness, headaches, nausea, vomiting, fainting, and blackouts.
Dosing
The strength of your canna-banana bread depends entirely on the strength of your cannabis-oil. For this recipe, one teaspoon of my cannabis oil was equivalent to one dose. 
If you're not sure how strong your oil is (which is common when it's homemade) start with a very small piece.
You can decrease the strength of your bread by using part cannabis oil and part ordinary coconut oil.  Alternately, you can make a cannabis-free version of this anti-inflammatory bread simply by using ordinary coconut oil in lieu of cannabis oil.
Canna-Banana Bread Recipe
Ingredients: 
¼ cup melted cannabis coconut oil or melted canna-butter
¾ cup light brown sugar
3 smashed ripe bananas
2 eggs (room temperature) or egg substitute
1 ½ cups oat flour
1 ½ cups whole wheat flour
½ teaspoon salt
1 teaspoon baking soda
1 teaspoon vanilla
1 teaspoon cinnamon
¼ teaspoon ginger
¼ cup walnuts
¼ cup dried cranberries
Directions:
Cream together cannabis coconut oil and sugar.
Add bananas, eggs, and vanilla. 
Sift together dry ingredients. 
Mix just until combined – do not overmix. 
Fold in cranberries and walnuts.
Pour into a greased & floured loaf pan.
Bake at 350°F for 25-30 minutes or until an inserted toothpick comes out clean.
Makes 12 Servings