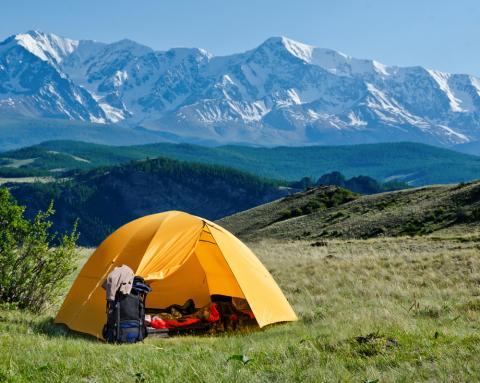 For many people, the start of summer means camping and everything that comes along with dirtbaggin' it for the weekend: tents, campfires, starry nights, and camping food. Unfortunately, as much as fresh air, long hikes, and spending your days outside in nature are great for your health, camping food isn't. That's because camping food usually means convenience: think Jiffy Pop, S'mores, and hot dogs. Luckily, camping can be made healthier for the whole family with a few simple twists—and without sacrificing taste or fun. Next time you head for the campground, think about incorporating these ideas to make your trip satisfying and healthy.
FOOD
1. Think Fresh
The next time you're at a campsite, take a look around the picnic tables: you're likely to see bags of marshmallows, packages of instant oatmeal, bacon, cans of baked beans, potato chips, hot dogs, hamburgers, and instant hot chocolate and coffee. Ironically, most of this food is as far away from nature as you can get. Rather than rely on packaged foods which are usually filled with unstable, carcinogenic oils (remember those pesky trans fats?), too much sugar (one cup of mini marshmallows has nearly 30 grams of sugar), and processed meats (with nitrates.) Look to pick up your fruits and veggies on the way to your campground; if that's not possible, simply fill a cooler with bags of ice to keep produce fresh (be sure to keep greens like romaine and spinach away from the ice to prevent sogginess.) I like to bring vegetables that are hardier: think corn, fresh beans and peas, zucchini and summer squash, cucumbers, apples, pears, and cherries.
2. Meal Prep
Meal prepping before you go camping can mean more time spent swimming in the lake and hiking on the trails. One popular health blog, Wellness Mama, suggests creating a meal plan, then pre-making all of your meals for your trip. While this can dramatically cut down time spent cooking while on your camping trip, this also means a lot of beforehand prep. I recommend choosing easy-to-cook meals that a kid can help with—that way, you can spend time with your family while also teaching your children valuable skills in the (makeshift) kitchen. Try this campfire chili, for example, for an easy and nutrient-dense meal. For those that prefer to have on-hand snacks, try baking double batches of breakfast cookies (filled with oatmeal, bananas, and nuts), or energy balls. Slice carrots, cucumbers, and celery for easy dipping in hummus or salsa, or slurp on bone or miso broth. I also like making my own trail mix, using Brazil nuts, cashews, almonds, coconut flakes, and dried mulberries, but feel free to get creative with dried apples or pears, dark chocolate chips, crisped brown rice, cacao nibs, and goji berries.
3. Spice It Up
Just because you're camping doesn't mean that your meals have to be flavorless; in fact, adding salt, turmeric, pepper, curry, garlic, ginger, and other good-for-you spices can boost the health content of your food, too. If weight isn't a factor, take along small glass bottles with your favorite spices (don't forget the hot sauce.) If you're looking to keep weight light, use plastic bags or the more environmentally-friendly silicon or beeswax storage bags. 
HEALTHY LIVING
4. Bug Spray Done Better
Warm weather often means bugs and depending on where you're headed, this can mean wearing pants at night to avoid the odd mosquito bite or even full-on war. While harsh insect repellants like DEET can get the job done, there are potential risk factors, one of which is absorption into the skin and bloodstream. Additionally, DEET is harmful to birds, fish, and aquatic life, as this article points out. 
Natural alternatives, relying on essential oils like eucalyptus, rosemary, lavender, and citronella, can help repel insects. At night, when mosquitoes may be at their worst, wearing long pants and long-sleeved shirts can help reduce bites.
5. Smart Sunscreen
If you're planning on spending the day outside, it's prudent to avoid sunburns. Applying sunscreen frequently is often recommended, but depending on the type of sunscreen you use, it can have its own effects. Oxybenzone, a toxic chemical for humans, is also damaging to coral reefs and marine life. In fact, the use of most conventional sunscreens is linked to the declining health and bleaching of coral reefs around the world. As such, Hawaii is getting ready to ban sunscreens on the list. Do yourself and the earth a favor by switching to natural sunscreens that rely on zinc oxide for sun protection and don't come with any of the chemical byproducts. Still not happy with what's offered? Make your own.
ACTIVITIES
6. S'mores Revamped
Sure, roasting s'mores brings back childhood memories and, yes, there's a time and place for everything, but what if you could enjoy the experience without adding extra chemicals? Look for vegan marshmallows and organic graham crackers (or make your own). Then add your favorite fair-trade dark chocolate and you've got the same snack with less of a toxic load. Enjoy, as always, around the campfire.
What's your favorite thing about camping? How do you make camping a fun and healthy activity for the whole family?