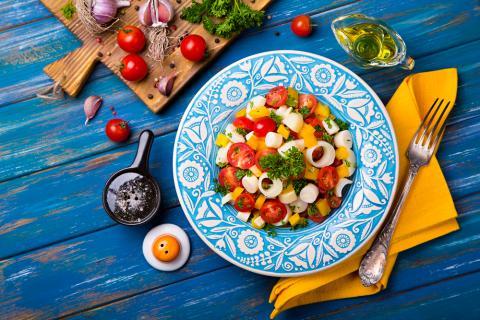 Hearts of Palm are a member of the family Arecaceae, commonly known as the Palm family of the genus Sabal Adans. or palmetto P of the species Sabal palmetto (Walter) Lodd. ex Schult. & Schult. f. or cabbage palmetto P. The plant is native to Central America and has been a staple food in those regions for millennia. The inedible parts of the tree were used for building material and the inner part known as hearts of palm were used in many recipes. Hearts of palm are also native to the state of Florida and grow in Georgia and both North and South Carolina. The fruit of the plant is rich in nutrients and inhibits the development of many maladies. It is an excellent plant for landscape décor, grows well as a container plant, and is easily grown with little maintenance requirements. The Sabal Palmetto, commonly referred to as the cabbage palm, can be used in containers to accent a patio or deck and brought indoors during the winter months.
Hearts of palm is the interior portion of the Sabal Palmetto tree. It is protected by a tough ivory husk that has cylinder shape. The flesh has a velvety texture that is tender with a delicate flavor much like an artichoke. It tends to be four inches in length and range in diameter as thin as a pencil to up to one-and-one-half inches with the appearance of white asparagus. The fruit is inner center of the stem that supports and forms the leaves.
Hearts of Palm: A Healthy Food
Hearts of palm are rich in nutrients that include vitamins A and C. They contain potassium, calcium, sodium, and iron and are a good source of fiber and carbohydrates. Protein is also a part of the vegetable, which has no saturated fats and is low in calories.  
Hearts of palm also contains folate, zinc and copper. These substances, added to the other nutrients, make the vegetable beneficial to maintaining a healthy body. The folate aids in the production of red blood cells and is very beneficial to pregnant women. The fiber content maintains a healthy digestive system and prevents constipation and other digestive tract maladies.
Hearts of palm should be included in the diet of children as it maintains healthy heart development. The zinc present in hearts of palm helps to quickly heal cuts, scrapes, and bruises. The vitamin A helps keep ocular health and prevents the development of eye disease. This vitamin also acts as an antioxidant which inhibits the development of cancers. The protein content helps to regulate sleep cycles.
Eating Hearts of Palm
There are various ways to use hearts of palm and they can be found year round in cans and jars at most supermarkets, health food stores, and specialty food marts. They can be eaten raw as an ingredient sliced in salads. The vegetable can be fried and eaten as a snack or baked and used as a side dish. It also adds texture and flavor to many recipes.
Growing Hearts of Palm
Sabal palmetto or cabbage palm is easily grown providing a continuous supply of hearts of palm. Seeds germinate in approximately eighteen days and need very warm temperatures; as they emerge they look like blades of grass. When planted from seed they are slow in maturing but started plants from nurseries can be transplanted in the ground in warm climates and can be grown as potted palms. They should be planted in containers ranging in size from ten inches to twenty inches in diameter and ten inches deep. The plant likes well drained, moist, organic soil mix and needs little fertilization.