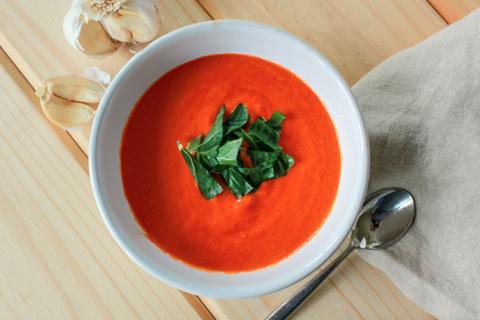 If you like simple, delicious food, then this recipe is for you. Today we're taking one of the most common vegetables—red bell pepper—and transforming it into a silky, slightly sweet, slightly spicy vegan soup. This soup is packed with nutrients, and it's easy to make, but it's the flavor that will ultimately inspire you to ditch the canned version, so popular at supermarkets, forever.
Magical Shape-Shifting Bell Peppers
Food is about so much more than physical sustenance. It's also about politics, culture, and science. It's this last aspect—the way food changes shape and flavor depending on how we treat it—that makes today's red bell pepper soup a little magical. It's fun to take common foods like bell peppers and cook them in a way that shows a different side of their personality. Of course, we know raw bell peppers have a lovely crunch, and when pureed, they make a wonderful dip, but this soup has a distinctly silky texture that causes most people to do a double take. Oh and did you see that lovely red color? Seriously, you have to try this soup.
How To Make Red Bell Pepper Soup
The lovely texture of this soup is created through the cooking method and the inclusion of (full fat) coconut milk. While some people find roasting bell peppers a chore, pretty much everyone agrees that they're worth the effort—they're so delicious. To make the task as easy as possible, transfer the bell peppers to a covered bowl after they're done roasting and allow them to sit for ten minutes. This will encourage the skins to slip off easily; plus, removing the skins will give your soup that silky, luscious texture. Another tip: try to keep each bell pepper relatively intact when you peel it. Then, when you open the bell pepper, you can remove the stem, core, and seeds in nearly one swoop. There are always a few errant seeds but handling the peppers with care will minimize this challenge. Whatever you do, try to avoid rinsing the peppers to remove the seeds, which will diminish flavor.
Yes, But What's In Them?
In addition to being able to transform into a dreamy vegan soup, red bell peppers are also really good for you. I hesitate adding up nutritional content almost as much as I do counting calories, but it is impressive that a cup of chopped red bell peppers contains three times as much vitamin C as an orange. (Please note, roasting does diminish some nutritional content but overall, fresh roasted red bell peppers are still a plus in terms of health.)
On cooler spring days, this red bell pepper soup is nice with warming spices like red pepper flakes and basil; when the weather is warmer, try it topped with fresh chopped cilantro. Either way, you're going to end up with a delicious small meal or first course that will remind you of the quiet magic that exists in everyday food, the garden, and in nature.
Silky, Sweet & Spicy Roasted Red Bell Pepper Soup
(Vegetarian, Vegan, Gluten-Free)
Serves:  4
Prep Time: 10 minutes
Cook Time: 55 minutes
Total Time: 1 hour, 5 minutes
Ingredients
4 red bell peppers
1 Tablespoon coconut oil
1 white onion, sliced
1 garlic clove, finely chopped
1/2 teaspoon red pepper flakes
sea or pink Himalayan salt
1 cup unsweetened whole (full fat) coconut milk
3/4 cup filtered water or vegetable stock
chopped fresh basil, cilantro, or Swiss chard (optional)
Directions
Roast the peppers: preheat an oven to 450 degrees Fahrenheit. Line a baking sheet with parchment paper. Place the peppers on the sheet and cook, turning twice, for about 35 minutes, until soft and wrinkled. Transfer the peppers to a bowl, cover, and allow to steam for about 10 minutes. When they're cool enough to handle, peel, stem, seed, and chop the peppers coarsely.
Heat 1 tablespoon of coconut oil in a large, deep saucepan over medium heat. Add the onion and cook for about 5 minutes, until soft and translucent.
Add the garlic and red pepper flakes and cook for a few minutes more, until the garlic is soft but not browned.
Add the chopped peppers, and a little salt, and stir until well combined.
Add the coconut milk and water, bring to a simmer, and cook for 30 minutes.
Remove from the heat and purée using either an immersion or stand blender, until smooth and silky. Taste and add more salt as needed.
Plate and top with chopped fresh basil, cilantro, Swiss chard, or other greenery.
Additional Cooking Notes
This red bell pepper soup will last in an airtight container in the refrigerator for two days (coconut milk goes rancid quickly, so always double check before serving).
Photos by Shiraz Leyva