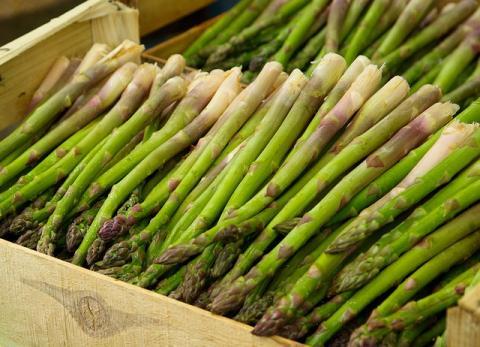 Now that the holidays are long gone, I'm gettin' a little tired of this whole winter thing. I'm more than ready for springtime to warm up the frozen tundra that lies right outside my front door. Okay, I live in California. So, that may or may not have been a bit of an exaggeration. However, in all seriousness, I truly cannot comprehend how people even survive the subzero winters outside of California; I salute y'all.
All the sun worshippers who miss temperatures that are ideal for outdoor activities are just going to have to remember that spring is on the horizon. In the meantime, while we're still cooped up inside, why not prepare some delicious dishes that'll warm you right up, and keep you optimistic? Using fresh, seasonal produce, whip up yummy, comforting meals all month long. Don't forget—Valentine's Day is a perfect occasion to make your loved one a romantic, celebratory meal that'll surely heat things up!
1. Asparagus: As a green vegetable, asparagus is a healthy food choice, and a tasty one at that, but I'm sure you already knew that. Simply preparing asparagus by roasting it with olive oil, salt, pepper, and lemon juice makes for a phenomenal side. Since asparagus is supposedly an aphrodisiac, I'd bet it's going to be pretty popular among smitten folks this February 14th.
2. Dates: Medjool dates are sweet fruits that are often used in vegan recipes, instead of refined sugars. No candlelit dinner is complete without a decadent dessert to follow. So, why not sweeten up a chocolatey confection with dates? By the way, I hear chocolate is an aphrodisiac, too.
3. Radicchio: Some people may shun radicchio due to its bitterness, but that's part of its beauty! After buying a lettuce mix of butter lettuce and radicchio, it's become my new favorite. The slight bitterness pairs very nicely with a quick "honey" mustard vinaigrette of agave, Dijon mustard, and rice wine vinegar. It's a fabulous appetizer!
4. Delicata Squash: This striped winter squash has been getting a lot of buzz lately, and for good reason. Squash lovers and lazy people alike might like to know that you don't even have to peel delicata; the skin's edible! Wahoo! Anyone who's peeled a butternut squash knows what a sigh of relief this is. While winter lasts, roast or stuff a delicata squash for a great, easy preparation.  
5. Sweet Potatoes: Truthfully, I'm not sweet potato's biggest fan. I've tried to get onto the sweet potato bandwagon because I do know that sweet potatoes are better for you than regular ol' russets, but I'm still not entirely convinced by their flavor. I just can't fully get behind a food that is part potato, part dessert. It's weird. So, I can only enjoy them when I can decide where their flavor is headed. I've learned to love sweet potato casseroles that involve peaches, organic brown sugar, and nuts. For a savory snack, I've been known to eat crispy, salty sweet potato fries or tots that are accompanied by an equally savory condiment. If you're a sweet potato skeptic, like me, give it another shot!