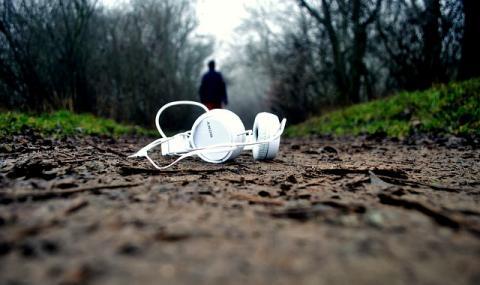 There are numerous ways to learn about healthy lifestyle practices, ranging from self-care to nutrition to exercise to yoga. Books, online and in-person classes, workshops, and friend-to-friend chats can all be great ways to learn more about the healing benefits of pine pollen, for example, or if plastic bottles are really safe. Those of you reading this will already be aware, but Basmati is one such example of a great source. But long road trips, plane travel, or even daily commutes can take up time that could otherwise be spent learning. Ditch the radio or traffic report for one of these podcasts. Here are my ten favorite healthy living podcasts, part one. Download a few and give them a listen–I guarantee you'll walk away smarter!
At 50-years-old, Rich Roll is a household name in the healthy living world. A former world-class triathlete, this vegan dad regularly interviews some of the most interesting, intelligent and leading entrepreneurs, nutritionists, athletes, scientists, and doctors on his podcast, Rich Roll Podcast. While Rich is a vegan for health and animal rights, he interviews a wide variety of guests and frequently discusses other dietary beliefs. Expect this one to open your mind in more than one way.
Favorite Episode: David Goggins
Rich interviews a retired Navy Seal, considered the "toughest athlete on the planet" for the races and physical feats he's accomplished. This is a great choice if you're looking to get an edge mentally. 
Ben Greenfield is known for a lot of things–biohacking, bodybuilding, Ironman triathlon, physical training, but he's perhaps best known for his energetic and often overwhelming podcast, Ben Greenfield Fitness. His podcasts are thorough and give a good overview of the people who hosts, and his interviews are generally as mind-blowing as the titles with which he names them: "Pulling 8,800 Pound Fire Trucks By The Hair," "How *Not* To Microwave Yourself in a Sauna" and "Elephant Poop Coffee." While seemingly outrageous, his podcasts are a great look at the latest that science has to offer and usually focus on the importance of good nutrition, good sleep, and a good mental attitude.
Favorite Episode: 4 Ways to Eat Yourself Beautiful with Cate Shanahan
Ben interviews Dr. Cate Shanahan, author of the book Deep Nutrition: Why Your Genes Need Traditional Food. In this episode, Shanahan discusses the consequences of ingesting vegetable oils, how nutrition is related to symmetry in the face, why calories don't necessarily matter, and the four pillars of "Deep Nutrition." 
Tim Ferris has come out with a variety of New York Times Bestselling books over the past few years including "The 4-Hour Work Week," "The 4-Hour Body," "The 4-Hour Chef," and most recently "Tools of Titans," a round-up of Ferris' favorite podcast guests and their enlightening advice. You can read the book, but the podcasts are well worth your time. Ferris is a master interviewer and asks questions that most people don't dare ask. 
Favorite Episode: How to Be Creative Like a Mother*cker with Cheryl Strayed
Cheryl Strayed is the author of the wildly popular book, Wild, which was recently made into a blockbuster hit movie. While this podcast might not seem like it's related to healthy living, creativity is intrinsically tied into health. Strayed is emotionally vulnerable in this podcast, and suggests several ways to allow creativity into your life-–starting with opening up. She recommends a variety of journaling and writing activities that anyone can try, too. 
Daniel Vitalis, host of the Rewild Yourself, is all about rewilding oneself with the natural world, and his diet speaks for itself. Vitalis regularly forages, ferments, and hunts his own food, but don't let this turn you off if you live a plant-based lifestyle. Vitalis is keenly interested in holistic practices like grounding, fat-based diets, gut health, and healthy cosmetics. Expect to be left wanting to learn more and try new practices for yourself.
Favorite Episode: The Barefoot Podiatrist with with Dr. Ray McClanahan
Do you wear shoes? Do you know what your shoes are doing to your feet? In this episode, Vitalis interviews Dr. Ray McClanahan, a leading expert in restoring natural foot function. I've been a long time wearer of Correct Toes, but didn't make the connection between Dr. McClanahan and his invention until I listened to this podcast. Even if your feet don't yet hurt you, this is one you're going to want to listen to–and pass along to everybody you know. 
Chances are, you've heard about bulletproof coffee–the idea of mixing butter, coconut oil and other fat sources into your coffee for health benefits–but you might not have realized that the concept comes from the host of Bulletproof Radio, Dave Asprey. A Silicon Valley investor and technology entrepreneur, Asprey lost 100 pounds following a deep dive into health practices that others scoffed at. Asprey, like the other podcast hosts mentioned above, is interested in cutting-edge information, so expect to cover topics like reversing autoimmune thyroid diseases, using humor & sarcasm to improve your life, and what your blood is trying to tell you. 
Favorite Episode: Climb Everest in a T-shirt & Shorts. Survive Submersion in Freezing Water for Hours. Wim Hof Tells You How He Did It with Wim Hof
Wim Hof has risen to sudden fame, though not for reasons you might expect. The Dutch man is well-known for his cold water showers and special breathing technique. Expect better physical performance and mental clarity following his protocols. And, while the cold-water showers will be pretty painful at first, you'll soon warm up to the idea (and yes, I acknowledge the irony in that statement). This is one podcast you won't want to miss. 
Abel James, better known as Fat-Burning Man, hosts the wildly popular podcast by the same name with a stress on the word "wild." James prefers what he has coined the "Wild Diet"–a diet rich in high quality fat, fresh and cooked vegetables, and absent of vegetable oils, sugar, and processed foods. While James' health philosophy comes from his own struggles, he invites a variety of guests onto his show. Don't expect this show to answer all of your most complex questions about the science behind nutrition or exercise, but do expect James to tackle the questions that you, the listener, probably want to ask. 
Favorite Episode: Kombucha Cocktails, Fermented Foods, and SCOBYs in Space! with Hannah Crum 
James interviews guests with backgrounds in and know-how about everything from 3D Printed Burgers to boosting testosterone to working out with rocks. The best podcast I've listened to, however, deals with kombucha. In this podcast, Crum, founder of Kombucha Kamp, explains everything you need to know about kombucha, including why you should be drinking more fermented beverages, if it's possible to overdose on kombucha, and how to use old SCOBYs as garden fertilizers, fruit leather, or dog chew toys. 
Podcast host Sean Croxton isn't necessarily the smartest, fittest, fastest, or richest podcaster there is, but he may be the best there is at explaining complex or hard-to-grasp subjects. Croxton reads a lot, and his ability to relate to his guests at their level is evidence of that fact. Expect an exploration of a wide range of opinions, beliefs, and rituals on this podcast. While his podcast, Underground Wellness, is no longer coming out with any new shows, more cutting-edge information can be found on his new radio show, The Sessions. 
Favorite Episode: How Meghan Beat Crohn's Disease with Meghan Telpner
Meghan Telpner is one of the my favorite bloggers and cookbook authors (check out the review of her awesome book, The Undiet Life, here.) So, it's no surprise that this podcast rates high on my all-time must-listen-to podcasts. Telpner explains her story with Crohn's disease and how it started her health journey. Stay tuned to discover the most important factor for anyone trying to heal from any disease or condition. 
"Who am I?" Ella asks her listeners. "I'm busy, just like you." Consider Ella, the host of On Air with Ella, like a close friend–she has the latest information about health, nutrition, fitness, meditation, and more, and is able to break it down in a way that is relatable and necessary for you. Ella frequently brings in listener questions, which means that you, as the listener, have the opportunity to ask your most-pressing questions to the weekly guests. Her podcasts are on the shorter side, too, so you won't feel overwhelmed with information, either.
Favorite Episode: On Sitting, Standing and Being a Human. Like A Leopard. with Kelly Starrett
This podcast combines two great people–Ella and Dr. Kelly Starret, author of the popular book, The Supple Leopard, talking about an important topic: mobility. Find out if the phrase "sitting is the new smoking" is accurate, if barefoot or minimalist shoes are all they're cracked up to be, and what functional movements you should be able to do, but probably can't. 
Chris Kresser is the host of his popular and long-running show, Revolution Health Radio. Kresser has studied, practiced, and taught alternative medicine for nearly two decades and was inspired to inform others following a chronic illness that left him feeling even more sick following traditional western medicine practices. Kresser is interested in looking at the science behind popular fads and trends, and his calm voice is relaxing to listen to, even if the topic can be controversial. While Kresser does invite guests onto his show, many of his podcasts are simply 20-minute episodes of him answering reader questions. Think of it as the perfect thing to listen to for a walk around the block.
Favorite Episode: Could Gluten-Free Diets Be Harmful?
Gluten-free is becoming more and more popular, partly because we now know how to diagnose celiac disease. And, while eliminating gluten from one's diet can be healthy for those who have problems digesting gluten-containing products, replacing foods with highly processed gluten-free cookies, breads, pastas, and cake alternatives can be a chemical storm that causes further health problems. Kresser breaks down the myths and facts in this study and reminds us to not associate correlation with causation. Give this one a listen to sort out the hype from the truth. 
Headspace is a wildly popular app that allows users to meditate whenever, and wherever, they want through guided meditation sessions. Radio Headspace, then, is creator Andy Puddicombe's podcast show where readers get the chance to ask Andy questions about his experience as a mindfulness and meditation expert. 
Favorite Episode: Introducing…Radio Headspace
This podcast is the first episode to start Radio Headspace. In this show, Dr. Claudia Aguirre, the resident neuroscientist at Headpsace, interviews Andy and his foray into meditation, beginning with his first major decision: to become a monk or become a teacher by starting Headspace. He answers this question and the reason behind it, plus more, in this first podcast. After you give it a listen, hop on it and download the Headspace app! 
What podcasts am I missing? What's your favorite podcast and all-time favorite episode?