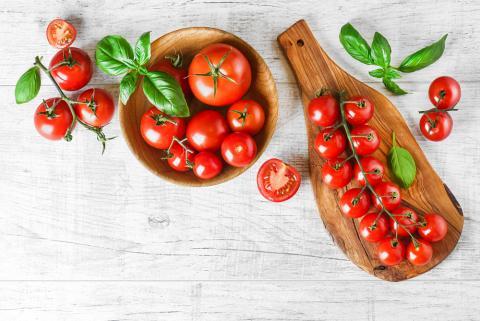 It might be almost back-to-school time, but that summer sunshine is still shining brightly in a lot of places.  And even when it's not, those UV rays can sneak through clouds and chilly weather.  While a little sunshine is certainly good for your vitamin D levels, too much can lead to skin cancer, aging skin, and sun spots.  You're already using a natural sunscreen every day (aren't you?!), but if you're looking to do a little more to protect your skin from those bright beams, think about the food you eat.  Just like how eating certain foods can treat the acne on your skin, some foods give your skin an extra layer of protection against harmful UV rays.  Why not use this sunny month as an excuse to enjoy an extra serving of these treats?
Foods That Fight The Sun's Rays
Tomatoes
Tomatoes are known for being chock-full of the antioxidant lycopene.  Lycopene works to battle free radicals that can cause skin cell damage.  (It battles other cancers besides skin cancer, too!)  Research shows that cooking tomatoes makes them just a little healthier—so go ahead and cook up a flavorful tomato soup or hearty kale stew, or serve this shakshuka at your next brunch.  You can also sneak in some extra lycopene in your marinara sauce.  Prefer fresh tomatoes?  Throw them in all kinds of salads or scoop bruschetta on everything (it's not just for bread!).  Tomatoes not in season?  Use tomato paste—it's more concentrated, anyway, and a swirl of it can really liven up hummus and sandwiches (or give depth of flavor to soups and stews).
Grapes
Is it a coincidence that the skin of grapes is what can help protect your skin?  Grape skins are full of polyphenols, another type of antioxidant that can help protect your skin against aging and also help prevent sun spots. Try freezing them for a frosty pop of flavor, or throwing them in a salad with avocado and arugula. (Just don't share them with your pooch!)  And if you really don't want to eat them, make a natural facial peel with them instead to still benefit from their goodness.
Pomegranates
Another fruit packed with antioxidants—especially in the seeds—the pomegranate is a powerhouse when it comes to boosting your skin's sun protection factor.  Those antioxidants battle free radicals in the body, and pomegranates contain ellagic acid, which works to protect skin from UV rays.  Even more surprising?  Pomegranate extract, when used in conjunction with sunscreen, has been shown to increase a person's SPF level by 20 percent!  If you don't like pomegranate seeds in a salad with kale and walnuts, try a smoothie or syrup.
Almonds
A rockstar in Ayurveda medicine, almonds boast a whole slew of health benefits—one of those is the ability to protect the skin from UV rays, and even repair UV damage, due to their concentration of vitamin E.  But wait, there's more!  They also contain quercetin, which keeps the skin in tiptop shape by protecting against UV damage and also against the breakdown of collagen in the skin, which keeps it looking plump and youthful.  Almonds are so easy to eat—toss them on a salad, use almond milk instead of dairy milk, or put almond butter on any and everything for a quick serving.  Or try this vegan parmesan cheese made from almonds!
Dark Chocolate
Dark chocolate contains flavonoids, which can literally help protect your skin against UV burns.  Moreover, those same flavonoids keep your skin hydrated and boost blood flow all around, making your skin look younger and healthier.  Mix some pieces of dark chocolate in with nuts (almonds or walnuts are a good choice) and dried fruit (try cranberries or raisins) for a quick and easy trail mix that you can snack on anywhere.
Coffee
Like lots of things on this list, coffee has antioxidants that help battle UV damage.  But it also has B vitamins and caffeine, which makes it extra effective at preventing the duplication of damaged cells.  Coffee might be controversial, but one study found it can decrease your risk of melanoma by as much as 20 percent.  Scientists are constantly finding new perks to perking a cup o'joe.  So drink up!
There are lots more foods that can give you a boost of antioxidants and other vitamins and nutrients that can give your sunscreen a hand while you're out enjoying those rays.  Leafy greens, citrus veggies—the list goes on!  Make your food work for your body, and choose foods that give your body the extra attention it needs for each season.