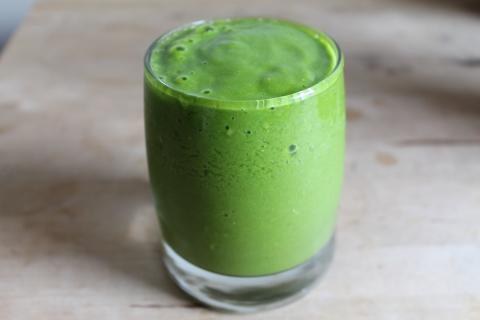 Cold season is upon us, so what better time to get your immune system up and running with a nutrient-dense green smoothie!
I've been really into the greens lately and every time I incorporate more dark leafy greens into my routine, I end up feeling 100 times better. It really is true what they say about greens being the most important part of a healthy diet, especially when they're raw. 
I use spinach as my green of choice due to its high vitamin C levels as well as its impressive mineral content. Spinach contains minerals such as magnesium, iron, and zinc and we all know that zinc is crucial for boosting the immune system. This smoothie also contains oranges, which are famously high in vitamin C (a big time cold-fighter) as well as calcium. 
I've been having this immune-boosting smoothie every morning for about a week and it's been giving me tons of energy while also kicking the cold I was brewing right to the curb. I could have easily juiced these ingredients, but I've honestly gotten so lazy with my juicing routine, plus when you go the smoothie route, there's a lot more of that crucial, dietary fiber that you just don't get when you juice. 
Here are the ingredients for the Super-Immune Boosting Smoothie:
1 navel orange, peeled and cut into quarters
1/4 of an English cucumber, sliced
1 thumb-sized knob of turmeric root
1 thumb-sized knob of ginger root
1/8 of a lemon (including the peel)
1/2 cup of frozen mango
1/3 cup of coconut water (or plain water)
2 handfuls of fresh spinach (about 1 cup)
Add all ingredients to a high-powered blender. Blend until smooth.
This green smoothie has a tart, tropical taste that I've been addicted to for the past week. The ginger bursts through with its spicy heat and the turmeric adds an almost lemony-floral taste (that's the best I can do in describing turmeric; it's a very complex flavor!). Turmeric is considered to be an antioxidant as well as an anti-microbial and I think we all know about its "anti-inflammatory" properties by now. 
The other powerful fighter in the mix is lemon peel which contains about 5-10 times more nutrients than the lemon juice itself. This is including vitamin C, folate, magnesium, and potassium. Not to mention the lemon essential oils which have anti-cancer properties that are embedded right into the skin. 
Ginger root is added for its diaphoretic effects, meaning it promotes sweating, warming the body from within. It's like when you warm up your engine in the winter before driving. This is why ginger is crucial to any immune-boosting regimen. 
All of the fruit and vegetables used in this smoothie are purposely high in vitamin C—an immune system booster in itself. I've subbed in frozen pineapple for the mango before and both add a good amount of sweetness as well as a ton of vitamin C which is exactly what we're going for.
This is a great drink to chug down first thing in the morning, before you have breakfast. That way, you can be sure your immune system will be able to utilize the nutrients ASAP.