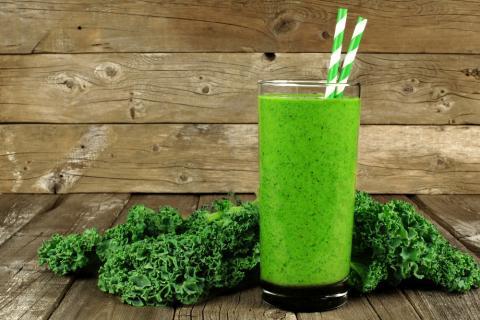 Salads may top the menu in summertime when we are all trying to perfect that bikini body, but don't overlook the value of a nutritious and delicious salad over the cold winter months when festive holidays can pack on the pounds. One of my favorite go-to winter greens is kale. As cold weather crops, kale (and collards in general) can't be beat. These two members of the cole family are hardy plants and grow easily in the winter months, hailing from the Brassica tribe. When it may seem difficult to pack your plate with a wonderful array of vibrant vegetables, look no further than this versatile green that can be used in a variety of dishes: not only salads, but soups, stews, pastries, smoothies, and even the occasional snack.
What makes this leafy green so popular? It packs a lot of punch in regards to health benefits.
There is no denying those health food junkies and sports enthusiasts have their facts straight. Whether you are a vegan, hitting the paleo diet, or a member of the mindfulness community, whatever your food preference, this vegetable should top your grocery list. For those individuals trying to shed a few pounds, kale is low in calories and high in fiber, and it has zero fat. One cup of kale accounts for only 36 calories, 5 grams of fiber, and 0 grams of fat. It helps stimulate digestion and cleanse the body. And that is not all.
Kale is renowned as a nutritional powerhouse, packed with a variety of nutrients, vitamins, folate, and magnesium. Here are six great benefits your body will thank you for on those blistery cold winter days when we need a boost of energy and physical wellbeing.
1. Kale is strong in iron.
Known in some circles as the "new beef," kale has more iron per calorie than red meat and we can rest assured when we eat kale that no harm will come to our furry friends. Iron is vital for good health, such as the development of hemoglobin and enzymes, carrying oxygen throughout the body to different organs promoting cell growth, proper liver function, and more.
2. Kale is rich in vitamin K.
Eating a diet high in vitamin K can help guard against various cancers. Vitamin K is also relied on for a wide variety of bodily functions, including maintaining normal bone health and the body's ability to effectively clot blood. Also, it has been reported that increased levels of vitamin K can aid people suffering from Alzheimer's disease.
3. Kale is filled with potent antioxidants.
Antioxidants, such as carotenoids and flavonoids (like quercetin and kaempferol), are substances that have been studied intensely and found to be powerfully cardioprotective, blood pressure lowering, anti-inflammatory, antiviral, antidepressant, and anti-cancerous.
4. Kale is high in vitamin A.
Vitamin A is imperative for maintaining normal vision, supporting the immune system, and reinforcing the reproductive process. Vitamin A also helps the heart, lungs, kidneys, and other organs work properly.
5. Kale is a great source of vitamin C.
Very helpful in keeping your immune system in tip-top shape, your metabolism steady, and your body hydrated, vitamin C (also known as ascorbic acid) is water-soluble and a mighty antioxidant. It helps the body form and preserves connective tissue, including bones, blood vessels, and the skin. One of the most easily attained vitamins, it plays a hand in numerous body functions, including the formation of collagen, absorption of iron, wound healing, and the preservation of cartilage, bones, and teeth.
6. Kale is calcium dense.
Per calorie, kale has more calcium than cow's milk, which serves to reduce bone loss, prevent osteoporosis, and sustain a healthy metabolism. One of the most prevalent minerals in our bodies, calcium helps blood clot, nerves relay messages, and muscles contract.
Matcha Kale Smoothie
Feeling the winter blues setting in? Wake up to this tasty smoothie that takes advantage of seasonal produce and will give you that feel-good kick start of energy to head off on your day's activities.
I typically do not add honey or agave nectar to my smoothies as it causes a sharp rise in insulin levels and can potentially work adversely, causing a crash in blood sugar and energy later on. Rather, I introduce fairly sugary fruits to counter the greens in addition to goji berries that are not only nutritious and pack a bit of sweet in a tiny morsel, but have a unique flavor and colorful eye appeal.
Ingredients
1 cup kale
1 cup spinach
1 Bosc or Anjou pear (peel and remove seeds)
1 medium pink lady apple (peel and core)
1/2 banana
1 cup unsweetened almond milk (toasted almond milk, if available)
2 teaspoons goji berries
1 Tablespoon matcha tea powder
2 Tablespoons toasted slivered almonds
Directions
In a high-speed blender combine the washed greens, pear, apple, banana, almond milk, 1 teaspoon goji berries, matcha tea powder, and 1 tablespoon toasted almonds. Puree until smooth.
Pour into glasses and garnish with remaining goji berries and toasted almonds. Makes 2-3 servings.