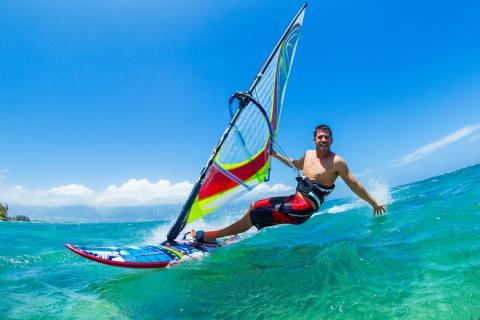 Summer is the time of fun in the sun. Why not get outdoors and make the most of those sunny skies? Here are 10 ways to enjoy summer by heading outdoors. 
1. Wash your hair with a garden hose 
There's something fun about not following the rules all the time. Washing your hair using a gardening hose fits into that category. Instead of hopping in the shower, why not run your locks through a gardening hose's water stream? If you have natural shampoo and conditioner with you, you can even go all out and get sudsy with it. If not (and you use shampoo and conditioner with lots of chemicals), stick to just washing your hair with water and letting it air dry in the heat of the sun. 
2. Run through a sprinkler 
Sometimes, the best thing you can do for yourself is unleash your inner kid. Turn on a sprinkler and run through it, letting yourself let loose. If you have kids, invite them to join you. You can also ask other adults to join you and turn it into a fun time, no matter the age. Choose a nice, warm sunny day to do this and relive your childhood summertime memories.
3. Have a cookout 
In summer, nothing beats getting a group of friends or family together and having a big cookout. The key to having a successful one is to plan in advance what meals you'd like to serve and who to invite. Begin by choosing your guest list, then sending out invites. This can be as informal (a call or text) or formal (written invitations) as you like. Give them a date to RSVP to you by so you know whether or not they're coming. Once that's done, make a shopping list of all the items you'll need for your cookout, such as plates, cutlery, cups, tablecloth, napkins, etc. Try to reduce the waste you create at the cookout by using as many reusables as possible (this will also save you a buck in the long run). Choose your menu (hopefully it's one filled with seasonal, summer recipes) and gather all the ingredients you'll need to make your dishes, making sure to plan for dietary restrictions—even if you decide to grill. On the day of your cookout, set up an area where guests can serve themselves, or a table where everything is already laid out. You can have guests bring their own dishes too, if you'd like. Whatever happens, enjoy yourself and have fun! 
4. Go beachcombing or clamming 
Essentially, beachcombing is an activity where an individual "combs" the beach, looking for items of interest, utility, or value. Items found can be anything from seashells to large pieces of driftwood. Give beachcombing a try and see what you can find. You never know what beautiful items you'll come across, or even what animals for that matter. You can also give clamming a try. With any new skill, make sure to research clamming before attempting to do it. If you're new to clamming, try finding someone who has experience with it to go with. You may even have a group of local clamming enthusiasts in your area you can learn from. Do some digging (pun intended) and get clamming for fresh seafood! 
5. Sleep under the stars 
Grab a blanket, a sleeping bag, binoculars, and a loved one. You're sleeping under the stars tonight! There's nothing more romantic than sharing such an experience with a significant other. Of course, you can just camp out in your backyard (this may be hard to do if you live in an area with high air/light pollution), or go somewhere specific with a great view of the stars. Whatever you choose to do, make sure you bring all the essentials you'll need with you (tick-repellent, food, water, etc.). Have fun and enjoy the tranquility of night.
6. Eat breakfast on your front steps 
Sometimes, it's nice to shake things up and eat outside for a change. Especially when the weather outside is a beautiful sunny day. Go outside with your freshly prepared breakfast and eat it on your front steps or patio. If you don't have either, eat it in your backyard or at your local park. If all else fails, get breakfast al fresco at one of those outdoor cafes and take a moment to just enjoy your meal under the warming rays of the sun.
7. Go on a wild-food treasure hunt 
Have you ever foraged before? It's pretty much like going on a treasure hunt. Get started by learning to identify and harvest these three plants: Lamb's Quarter, Dandelions, and Japanese Knotweed. Once you have that down, you can move on to more forgeable plants you should know about. If you're not sure what's local to your area, or completely new to foraging, consider investing in a field guide and taking a few foraging classes. You can also go on foraging tours with local foragers in your area. 
8. Take a boat tour 
Going on a boat tour is an exciting summer activity that you can do with your friends or a significant other. A boat tour is essentially just a short trip in a small boat, typically starting and ending in the same place. Usually it lasts for only a few hours and is designed for sightseeing. You don't have to be a tourist in order to enjoy a boat tour. These mini cruises, usually called lunch or dinner cruises, can be a great way to spend an afternoon or an evening. They're most fun to take in summer so you can walk out onto the deck without freezing and enjoy the summer night. Many boat tours offer food and games and some even have a DJ. Do a quick search to see what boat tours are offered in your area (you might be surprised at what you find) and book a date! 
9. Try windsurfing or kiteboarding 
If you're the physical, adventurous type, you'd probably love windsurfing or kiteboarding. Windsurfing is a sport of riding on water on a sailboard. It combines unique elements of surfing and sailing. If you're new to windsurfing, definitely do your research on it before trying it out and get the proper gear for it. You should also find a professional or someone who is experienced with windsurfing to help teach you. Kiteboarding is another fun summer sport you might want to try. This watersport consists of using a large steerable kite to pull yourself around on a board on top of the water. The kites are controlled through the bar and lines that connect to your harness, worn around your midsection. Before you attempt to do this sport, make sure you have the proper gear and do lots of research on it. Similar to windsurfing, you should find an expert who has done kiteboarding before to show you the ropes. Have fun! 
10. Tell time by a sundial  
Before there were clocks (or cell phones), there were sundials. Sundials are literally the oldest instruments used for telling time. The surface of a sundial has markings for each hour of the day. As the sun moves across the sky, another part of the sundial casts a shadow on these markings. The position the shadow is in gives way to what time it is. There are several sundials on the market you can purchase and place in your backyard. However, if you're crafty, you can actually make your own sundial using wood. There are several tutorials online you can look up and find. You can even decorate the sundial as you see fit. Learning to read and use a sundial will make you realize nature provides us with everything we need in this world: We just have to stop and notice them. Also, using a sundial to tell time is a good way to have a relaxing, tech-free day while out in nature.