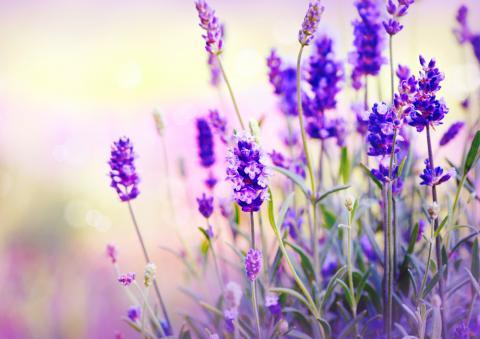 There's little better than fresh lavender, whether as an essential oil, an herb for cooking, in a fresh bouquet, or, my personal favorite, growing abundantly on a local farm. Additionally, lavender has numerous benefits, including reducing anxiety, healing wounds and burns, treating insomnia and restlessness, and relieving digestive issues.
There are several varieties of lavender, all characterized by green to grey to blue-colored stalks and lilac to deep purple-colored flowers. Additionally, they're one of the few flowers that look as good dried as they do fresh. For this reason, what exactly you do with lavender is nearly limitless. Do you have a spare bouquet of lavender? An extra bottle of essential oil? Here are five creative ways to use this magical herb.
These ideas require dried lavender; this can be found in the bulk section of many health food stores, but it isn't hard to make your own, too. Once fresh lavender has been gathered, hang it upside down to dry for several days. Lavender is dried once the buds fall off easily and the stalks turn from bright green to grey. 
1. Lavender Sachet
This craft is easier than you think to make—and it aids in relaxation. Once your lavender bouquet is dry, take a few stalks. Scrape the buds from the stalk using your thumb, or gently shake upside down. Gather the dried buds and place them in a small linen or silk sachet, then tie or sew to close. I like to give these as gifts, place them in an undergarment drawer, or hang them in my car for an ever-present summertime smell.
2. Lavender Eye Pillows
Recently, I've begun to use an eye pillow in order to relax before bed. My eye pillow is stuffed with rice and scented with lavender, which makes it particularly stress-relieving. You can make one, too, and it doesn't take much more than a few scraps of fabric, flaxseeds or uncooked rice, a needle and thread, and a few dried lavender buds. First, mix rice with lavender buds. Sew three sides of your double-layered eye pillow shut, then fill roughly half-way with the rice-lavender mix. Finally, secure it by sewing shut. To help yourself relax, try lying on your floor and placing your legs up against the wall. Lay the lavender eye pillow on your eyes and relax, meditate, or even take a short nap.
3. Lavender Nighttime Elixir
This elixir is terrific as a bedtime remedy against sleeplessness but can be enjoyed at any time of the day. Raw honey, like Manuka, is rich in B-vitamins and antioxidants, and it can help with a host of medical issues, like digestive problems, sore throats, and even slow-to-heal wounds. Small lavender buds, meanwhile, infuse the honey to promote a stress-free sleep. This elixir can be made in individual, or entire honey jar, batches. Simply combine a few teaspoons or tablespoons of lavender buds with raw honey and let infuse for anywhere from 30 minutes up to several days. Use the infusion to sweeten chamomile tea, an almond milk latte, or as a treat by the spoonful before bed. 
4. Lavender Sugar Scrub
This classic body scrub works well as a gift to the spa-obsessed, but costs far less than traditional beauty products thanks to ingredients that you likely already have at home: sugar, lavender buds, a high quality oil, and a few drops of your favorite calming essential oil. For this easy craft, combine 1 cup sugar (brown sugar works best, but won't look as pretty as granulated white sugar might), 1/4 cup oil (try jojoba, coconut, or almond), 2 tablespoons dried lavender buds, and 10 drops of essential oil (I prefer lavender to keep to a theme, but ylang ylang, geranium, and rose also work nicely.) To present as a gift, place the sugar scrub in a glass jar and wrap with twine, tucking in a small stalk of lavender.
5. Lavender Hair Rinse
Hair rinses, typically done with apple cider vinegar, are fantastic ways to balance the scalp's pH, reduce shampoo and product build-up, reduce frizz, prevent fungal problems, add shine, and even soften one's hair. With the addition of lavender, this healthy hair rinse has the added bonus of smelling good, too. Bring one cup of water to a boil; once boiling, steep 1-2 tablespoons of lavender. Remove from heat and discard lavender buds when it is well-infused. Once cool, add 4 tablespoons of organic apple cider vinegar (the bottle should read "with Mother" for best benefits), and gently stir. To use the hair rinse, shampoo and condition your hair as normal, then, while still in the shower, gently pour the hair rinse (in its entirety) over your scalp. Let sit for 3 minutes, then rinse out with cool water.
What do you do with lavender? Let us know in the comments below!