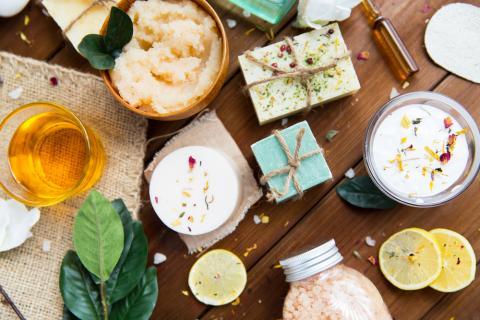 The holidays bring plenty of joyful memories for many people—family gatherings over home cooked meals, crisp winter hikes in the snow, and, for some, buying gifts. Unfortunately, not everyone feels the same away about holiday gift giving and many struggle to find a meaningful present. Rather than opt for a gift card, think about sending holiday cheer with one of these holistic gifts.
1. Kombucha Brewing Kit
Kombucha is currently the fastest growing drink in the United States with new kombucha companies innovating dozens of creative flavors. While kombucha has a load of health benefits, the price isn't beneficial to most people's wallets—a 16 oz. bottle can cost over $4.00. Save money, get creative, and try your hand at caring for SCOBYs—a symbiotic culture of bacteria and yeast. Many brands now offer make-your-own kits, but you can create a DIY kit yourself. If you have a spare SCOBY, add it with some liquid to a mason jar along with a package of sugar, black tea packets, and an instruction guide for getting started.
2. Saffron
Saffron is one of the most expensive spices in the world, known for its delicate red strands and the bright yellow hue it adds to dishes. Saffron is frequently added to dishes like paella and even saffron tea to provide a yellow-orange tint and subtle, aromatic flavor. If you have a foodie in your life, a small tin of saffron is akin to liquid gold. A few grams will do the trick—typically only a pinch is needed for most recipes. That's a good thing, too, since the high price is the result of needing more than 1,000 saffron crocus flowers to produce one ounce of saffron.
3. Eco-Friendly Straws
Cities across the world are beginning to ban single use plastic straws due to their enormous impact on our wildlife and sea life globally. Recent estimates suggest that more than 500 million straws are used every day in the United States alone. Opt out of plastic and go for glass or stainless steel. Eco-friendly straws are a simple gift to anyone. Choose from various designs, colors, and materials but be sure to snag a straw-cleaning brush to help your loved one keep their straw clean after use.
4. Handmade Lotion Bar
Lotion bars are the perfect gift for the traveler in your life, and the natural, holistic version is even better. Made with skin softening ingredients like Shea butter and beeswax, and aromatic essential oils like lavender, geranium, and patchouli, lotion bars offer the same skin moisturizing benefits without the mess. Make a homemade version using a recipe like this, then customize for the receiver of your gift with optional add-ins like argan oil for muscle recovery, cocoa powder for a bronzing effect, or crushed lavender petals for an extra delicate look.
5. Homemade Chocolate Bar
Homemade chocolate bars offer healthy fats with the inclusion of coconut oil, antioxidants via raw cacao powder, and immune system boosters with raw honey. To make a simply and delectable treat, gently heat coconut oil until melted, then remove from heat and stir in equal amounts raw cacao powder. Add raw honey to taste along with additions like nuts, dried fruit (think goji berries for a pop of color!), and sea salt. 
6. Magazine Subscription 
Consider gifting an annual magazine subscription like Natural Solutions or Yoga Journal, or try an environmentally-based magazine like Audubon Society or Sierra Club. You can find a magazine for almost any interest.
7. Blue Blocker Sunglasses
Blue blocker sunglasses might not be the most attractive sunglasses to wear, but they just might be the most beneficial, especially if your loved one tends to spend late night hours staring at a computer, TV, or phone screen. Too much blue light can disrupt your circadian rhythm and cause eye strains, not to mention make it difficult to fall asleep at night.
8. Dry Brush
There are numerous reasons to dry brush before your shower, starting with exfoliation (perfect for dry winter weather) and ending with increased circulation. A dry brush can be purchased online or at a local retailer, but look for a long-handled brush to allow your loved one to reach his or her back. A small instruction guide might be useful to include for those who aren't yet sure of how to dry brush (hint: brush before the shower, and always brush towards the heart.)
9. Responsible Wool
Wool is one of the best fibers for resisting smell, drying quickly, and keeping the body warm in cool temperatures and cool in hot conditions. Look for a company that is committed to producing ethical wool—which means sheep are kept in humane conditions and mulesing, the painful removal of strips of wool-bearing skin, is not done. Wool-based clothing is particularly useful in the winter, when bluebird days on the ski slope turn in to campfire cookouts with friends, all while sporting the same top or bottoms thanks to the fabric's powerful (and stink-resistant) properties.
10. Yoga Mat
Yoga mats can be used for more than just yoga. Encourage your loved one to start a stretching routine or set aside a time to work out with a yoga mat. If you're sure that he or she already has a stash of mats in the closet, consider purchasing (or making) a yoga mat carrier. Several tutorials, like this one, can be made by children with the help of an adult and allow for the use of bright patterns and colors.