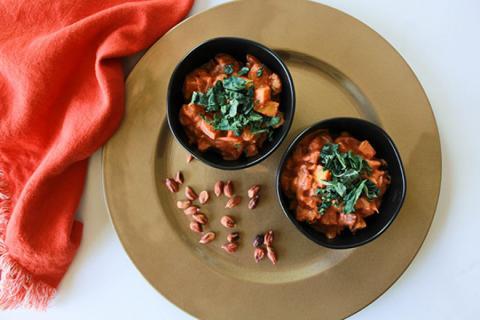 What is it about peanuts? Most of us love nuts, even to excess, and peanuts seem to hold a special place. But before you make a batch of peanut butter cookies, give this spiced peanut soup with kale a try. It contains ingredients you probably have in your kitchen right now, comes together quickly, and is rich in interesting flavor. Warming and nutritious, it's satisfying enough to be a quick meal in and of itself, and it just might delightfully surprise a few people at your table, too.
Nuts, Ayurveda, & Seasonal Eating
Vata season, the fall and early winter, is a great time to eat nuts. Vata is characterized as dry, light, cold, subtle, rough, and mobile. As cold, windy energy picks up, trees dry and lose leaves, and we, too, lose moisture. This can show up as dry skin, hair, and sinuses; cold hands and feet; constipation; stiff joints; insomnia; and muscle fatigue. Changes in the air can also cause emotional disturbances. We might feel ungrounded and experience increased anxiety, nervousness, and racing thoughts during this time. To bring excess vata into balance, we can gently adjust our lifestyles, daily routines (dinacharya), and what we eat.
In Ayurveda, it's believed that like increases like, and opposites balance. To balance vata, favor the opposite qualities: foods that are moist, heavy, warm, smooth, dense, and grounding. Nuts, rich in fat and protein, are thought to be strengthening, rejuvenating, and particularly good for the nervous system. With the exception of a few (like macadamia nuts, which are thought to be cooling), most nuts are on the menu during vata season. And while I wouldn't overindulge in peanuts due to their high omega-6 content, a little cooked into a warm, stew-like soup is fine. In fact, this peanut soup fits well in the category of what we should eat during vata season: freshly cooked, whole foods that are soft or mushy in texture, rich in protein and good fat, seasoned, and served warm.
How to Make Peanut Soup
This is one of those delicious, easy recipes you can riff on. Have some leftover stock in your refrigerator? Use that instead of water. Have some extra collard greens on hand? Throw them in. Sturdy seasonal greens and other vegetables like cauliflower work great in this soup. I add a bit of powdered, mild chili powder but resist adding cayenne—as tempting as it is—since intense heat aggravates vata. On the other hand, coconut milk, which heightens the creamy, stew like quality of this soup, is a terrific addition. Rice is traditional in the West African version of this recipe, and although I add brown rice here, this peanut soup is delicious without it as well. I usually use jungle peanuts, a highly nutritious heirloom variety, but any unsalted raw or lightly roasted peanuts will work. Ultimately you can make this soup as dense as you like by adjusting the amount of liquid.
Seasonal Eating is Self-Care 
During the cold, windy vata season, it's important that we care for our bodies by eating whole, warming, fat and protein rich foods. You might at first think, who in the world has time for that? But with recipes as easy and adaptable as this peanut soup, eating well becomes easy.  Over time, self-care, healthy food, and ease intertwine, and cooking amounts to happiness. And just like that, your kitchen starts to look less like a place where you throw things together, and more like a temple.
Spicy Peanut Soup with Kale
(Gluten-Free, Vegan-Adaptable)
Serves: 4
Prep Time: 20 minutes
Cook Time: 40 minutes
Total Time: 1 hour
Ingredients
2 Tablespoons extra virgin coconut oil, ghee, or butter
1/2 of a large red onion, diced
1 garlic clove, minced
1/2-inch piece of fresh ginger, minced or grated
1 cup diced carrots
1/4 teaspoon cinnamon
1/4 teaspoon mild chili powder
2 cups water or stock
2 cups canned tomatoes
1/2 cup chopped unsalted raw or lightly roasted peanuts
1/4 cup chunky or smooth peanut butter
2 cups of kale, stemmed and leaves torn into small pieces
Himalayan or sea salt
freshly ground black pepper
1 cup cooked brown rice 
Directions 
In a large heavy bottomed pot, heat the coconut oil, ghee, or butter over medium heat. When the pan is hot, add the onions, garlic, and ginger, and cook, stirring frequently, until the onions are soft and translucent.
Add the carrots to the pot, along with the ground chili powder, cinnamon, and a bit of salt and pepper. Stir and cook for a few minutes.
Add the water, tomatoes, and peanuts and give everything another good stir. Bring to a quick boil and then reduce the heat to a simmer. Cook, stirring occasionally, until the carrots are soft, about 20 minutes.
Add the peanut butter and cook until the soup is creamy, around 10 minutes. Taste and adjust the seasoning, adding more peanut butter if you'd like.
Add the kale and cook for a few minutes more.
Plate, add some warm brown rice (if using) to each bowl, and serve.
Additional Cooking Notes
Sometimes when I make this I use strained tomatoes, which I like since they come in a glass jar. In that case, I reduce the amount of water by half.
If you want even more creamy, sweet flavor, add coconut milk at the end of cooking but before you add the kale, and cook for an additional 10 minutes.
Before you plate this peanut soup, check to see that the peanut butter has fully dissolved.
Photos by Shiraz Leyva