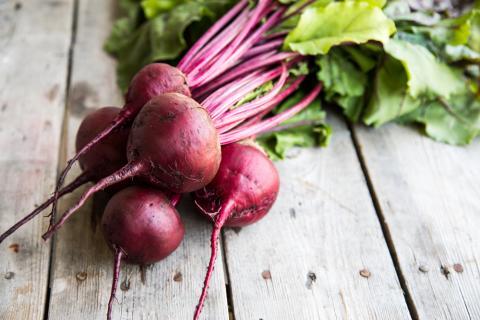 There are lots of good reasons to eat seasonally: when fruits and vegetables are fresh, their nutrition is at its peak, and it's more environmentally sustainable, for starters.  Ayurveda encourages eating seasonally too, and if you're growing your own food, then it just makes sense to eat seasonally.  But it can be difficult to eat the fruits and vegetables that are in season if they're new to you, or if you've eaten them for six weeks in a row.  It's easy to feel stuck, bored, or lost when it comes to incorporating the season's peak produce into your actual meal plans.  So let's take a look at a few of February's finest, freshest offerings and see how they're best prepared.
Asparagus
Asparagus is a great source of vitamins A and C.  It's a really excellent source of vitamin K, which helps blood clot, keeps bones strong, and supports heart health.  Asparagus is also a good source of fiber and its antioxidant properties make it cancer-fighting.  It even helps combat belly bloat!  And due to the presence of the amino acid asparagine, it is a natural diuretic that keeps the urinary tract healthy.
Beets
Beets are known for their bright reddish-pinkish color (which can stain everything, including your lips).  But they're good for more than a pretty color.  Beets can lower your blood pressure (because of their nitrates) and fight inflammation, too—they're even known as a detoxifier due to the betaine, an amino acid that helps keep the liver working optimally.  And those same nitrates that help regulate your blood pressure also increase athletic stamina—athletes often drink beet juice before endurance competitions.
Cauliflower
Cauliflower is undeniably healthy—it boasts a load of antioxidants like carotenoids, tocopherols, and ascorbic acid, which decreases inflammation, among other things.  It can help prevent the onset of or reduce the risk of a number of diseases, including cancer, and can even slow down tumor growth.  Cauliflower's high vitamin profile—including vitamins K and C as well as omega-3 fatty acids—improves heart health by keeping arteries and blood vessels clear, and supports brain health, too.
Leeks 
A lot of the health benefits of leeks come from sulfur-containing compounds, like allicin.  Allicin is antibacterial, antifungal, and antiviral, and also neutralizes free radicals as it's digested.  Another component of leeks, kaempferol, protects blood vessels from damage and support cardiovascular health, and leeks are yet another food that helps us fight cancer.  You get many of the same health benefits and vitamins and minerals from leeks that you get from onions and garlic, but they have a milder taste, which makes them more appealing to some people and easier to add to certain dishes without the risk of overpowering them.