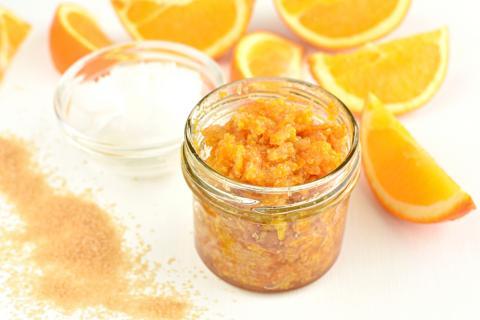 Winter is here so you know what that means: chapped lips! Along with drinking plenty of water and applying lip balm, you should also be using lip scrubs at least once a week. This will help exfoliate your lips and remove dead skin cells (aka, combat flaky lips). Here are five different DIY lip scrubs you can make this winter. 
Peppermint Sugar Lip Scrub 
Sugar works as a natural exfoliant while peppermint oil helps to stimulate circulation under the lips. Peppermint oil also creates a "just bitten" effect that actually makes your lips appear fuller, while also soothing the skin on your lips.
Ingredients 
8–10 drops peppermint essential oil 
2 Tablespoons olive oil or coconut oil 
2 Tablespoons sugar 
Directions
Mix the sugar with the olive or coconut chosen oil.
Add 8-10 drops of peppermint oil and blend.  
Apply the scrub to your lips and rub it in circular motions for a few minutes.
Rinse with lukewarm water. 
Coffee + Honey Lip Scrub 
Coffee grounds are excellent at exfoliating naturally. They are abrasive but not over the top, and they smell so good. Using coffee grounds is a great way to prevent them from being wasted. Honey is also incredibly soothing and a natural emollient. 
Ingredients
1 Tablespoon coffee grounds 
1 Tablespoon honey  
Directions
Mix the coffee grounds and honey in a mixing bowl and stir well.  
Dab this scrub onto your lips and massage in a circular motion for about one minute.
Wash away with warm water. 
Strawberry Lip Scrub 
This refreshing scrub is an inexpensive way to moisturize and nourish your lips with fresh fruit. Strawberries contain vital minerals and vitamins that help treat discolored lips. 
Ingredients
1 pureed strawberry 
3 Tablespoons sugar 
2 Tablespoons olive oil 
Directions 
Puree your strawberry in a blender, then set aside.
Add the sugar and olive oil to a bowl, and mix it up.  
Mix in the pureed strawberry and blend well. Apply the mixture to your lips in a circular motion for 30 to 60 seconds before washing off with warm water.  
Rose Petal Lip Scrub 
Rose petals help naturally lighten the tone of discolored lips. Rose also has antibacterial properties that help protect your lips. Cold milk helps with brightening your lips, too.  
Ingredients
Rose petals (from 1 rose) 
1-2 Tablespoons milk 
Directions
Take the petals from one rose and mash them well together in milk to achieve a paste-like consistency.  
Rub this onto your lips like a regular lip scrub. Wash off with lukewarm water. 
Orange Peel Lip Scrub  
Orange peel is excellent for treating dark and discolored lips. Almond oil helps nourish and moisturize dry, chapped lips, while sugar is a natural exfoliator for healthy lips. 
Ingredients
dried orange peel
2 Tablespoons brown sugar 
10-12 drops almond oil 
Directions
Grind your dried orange peel to make a fine powder. You need about 2 tablespoons of dried orange peel powder.
Add brown sugar and almond oil to the powder and mix the ingredients in a bowl. 
Gently scrub this mixture on your lips for about 30 seconds.
Wash your lips with warm water to clean it off. 
Tips For Exfoliating Your Lips  
When exfoliating your lips, remember these important tips: 
Be gentle. Don't exfoliate too hard or you may do more damage than good. 
Don't overdo it. You don't want to exfoliate your lips more than once a week. 
Moisturize with lip balm after exfoliating. This will keep your lips plump and healthy. 
Why To Exfoliate Your Lips 
Dry or chapped lips don't just ruin your whole look—they are also incredibly painful. They can even crack and bleed, should they get bad enough. They can also swell or burn, too. Exfoliating helps to reduce this, gently getting rid of flaky dead skin cells. It helps to promote new skin cell growth that will look and feel soft and supple. 
How To Keep Your Lips Healthy
Along with exfoliating your lips, you should also moisturize them. In fact, as soon as you finish using a lip scrub, moisturizing is key. I recommend applying some lip balm. However, don't use commercial brand lip balm, if you can help it. Many of the commercial brands contain questionable ingredients that you should put nowhere near your lips. Stick with natural lip balm and you'll be doing yourself a favor. You can even make your own lip balm too. That's a good idea, considering most lip balms come in hard to recycle plastic tubes. If you make your own, you can store it in a little glass jar or metal tin to avoid using plastic. Then, just scoop it out and apply it with your finger every time you need some extra moisture. Make sure you apply lip balm at least five times a day, if not more. Applying it once or twice isn't enough to make a big enough difference. You have to do it frequently. Sometimes I apply as many as eight or ten coats over the course of the day ! 
I also recommend drinking a lot of water. Staying hydrated during the winter is very important. If you're dehydrated, it can show in your lips by appearing as chapped lips. Make sure you're getting at least 8 cups of water per day. This will help keep your lips moisturized as well. 
Another reason lips crack is because there's a lack of moisture in the air to begin with. In the winter, there's barely any humidity, like in the summer. This can be a detriment to lips, causing them to dry out and crack. Consider investing in a humidifier for your room. Whenever you're in your room, turn it on, even while you sleep. This could help keep your lips a bit softer and more moisturized.  
Pairing these tips with an exfoliating lip scrub once a week will really help keep your lips healthy and vibrant all winter long.  
Which lip scrub is your favorite? Which will you be trying?