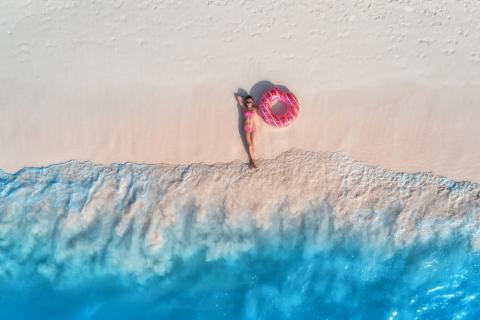 Want to make the most out of this summer? Introducing your summer bucket list: I challenge you to complete all 33 of these ideas before summer ends! You have until September 23rd (the official start of fall). Hop to it! 
Go Berry Picking: When you go, bring some friends or family to make it extra special! Also, double check with the farm that they don't use plastic containers to store the berries in. If they do, ask them if it's okay to bring your own containers.  Swim in the Ocean: What's better than a dip in the water on a hot summer's day? Remember to be respectful of nature while you're there!
Make a Cucumber Salad: Cucumber is incredibly refreshing and hydrating! 
Have an Outdoor Picnic: Make sure to prevent unnecessary waste by bringing reusable plates, forks, spoons, cups, and knives with you! Plus, it'll make you feel classier. 
Eat Fresh Cherries: Cherries help fight inflammation. Plus, they're juicy and tasty, so what's not to love? Better yet, get them from the farmers market. 
Go Stargazing: Grab a blanket, lie down on the grass, and look up at the stars. Or, take binoculars and a telescope with you. 
Twirl in a Sundress: It's fun to goof off and feel like a princess every once in a while, right? 
Catch (or Feed) Fish: Going fishing is fun, but if you'd rather not harm the fish, why not throw some food for them into the water instead? 
Make Sangria: And make sure to add freshly chopped farmers market fruit to it! 
Go to the Movies on a Rainy Day: No better way to avoid the rain and cool off. Go with a friend or significant other to double the fun! 
 Have a Yard Sale (or Go to One): You'll never know what you'll find.  
 Go to the Farmers Market with Reusable Bags: Nothing tastes better than farmers market produce. But make sure to avoid single use disposables by bringing your own tote bags and reusable produce bags! 
Catch a Firefly in Your Hands: Fireflies are so cute and harmless! 
Take a Hammock Nap: Nothing like dozing off on a lazy summer's day, am I right? 
Read 3 New Books: Challenge yourself. You can do it! Read outside for extra points. 
Run through a Sprinkler: Go on, be a kid again. 
Eat Watermelon: Nothing beats taking a bite out of fresh, juicy watermelon. Yum. 
Grow Something from Seed: Watching the evolution of your plant from seed to sprout to plant is mesmerizing. I recommend basil, lettuce, or tomato.  
Visit a Local Botanical Garden: Who wouldn't want to see all the pretty plants? 
Go to a Seafood Restaurant: If you're into seafood, there's no better time to indulge than summer. 
Walk on the Boardwalk: Take in the salty air as it whips through your hair. 
Make and Eat Homemade Fruit Popsicles: Just make sure you use reusable popsicle molds to avoid unnecessary waste. 
Join a Community Garden: Connecting with your community and growing your own food is priceless! 
Go Birdwatching: There are so many beautiful birds out and about in summer. 
Jump in a Pool: Ah, relief! Beat the summer heat. 
Eat Locally Grown, Pesticide-Free Fruits and Veggies: There's literally nothing better.  
Visit a Farm: Who wouldn't want to see how all their favorite fruits and veggies are grown?  
Go on a Road Trip: Better yet, an unplanned road trip. Go wherever the winding road takes you. 
Explore Your Local Town on Foot: There are so many stores you've probably driven past and never even noticed before. 
Make a Flower Crown and Seed Bombs: Indulge your inner flower child and get creative. 
Go Plastic Free: It's so important we limit our plastic usage. Our earth is suffocating from it! 
Sit around a Bonfire with Friends and Family: Nothing beats telling scary stories over a bonfire—or roasting marshmallows.  
Walk Barefoot on the Sand and in the Grass: Reconnect with the earth through the soles of your very feet. 
Think you have what it takes to complete this entire bucket list? Let us know how successful you are in the comments. Good luck!